This post contains Amazon affiliate links.
I don't know if you need this list. You are probably smart enough already. You're probably so smart, several world governments and mega-erorporations are tracking you, fearing the day you begin to dismantle oppressive power structures with your intelligence.
But I think these 50 books might make me smarter, and I'm planning on reading them. I read tons of romance, of course, along with nonfiction titles and mainstream novels. I'm very well read in poetry, and I've read a lot of novels that people consider classics. I like the idea of expanding my knowledge, though.
You might have already read a bunch of these, because you are not me! But maybe you'll see something here that sounds interesting. They aren't in any particular order, though I've put some similar things next to each other. You can click on any of them to read reviews on Amazon.
Let's start with science-type books.
1. Physics of the Impossible: A Scientific Exploration into the World of Phasers, Force Fields, Teleportation, and Time Travel, Michio Kaku.
This sounds amazing.
2. Genome: The Autobiography of a Species in 23 Chapters, Matt Ridley
Fascinating topic, and reviewers say it's very accessible.
3. Stuff Matters: Exploring the Marvelous Materials That Shape Our Man-Mad World, Mark Miodownik.
The review in Scientific American said, "Miodownik, a materials scientist, explains the history and science behind things such as paper, glass, chocolate and concrete with an infectious enthusiasm."
4. The Tale of the Dueling Nuerosurgeons: The History of the Human Brain as Revealed by True Stories of Trauma, Madness, and Recovery, Sam Kean.
I can't resist books about the brain. I am particularly interested in reading about Cotard's Syndrome, which makes people think they are dead. Good heavens.
5. The Immortal Life of Henrietta Lacks, Rebecca Skloot.
I can't believe I haven't read this yet.
Okay, how about some novels?
6. The Sound and the Fury, William Faulkner.
It's also ridiculous that I haven't read this.
7. Play It As It Lays, Joan Didion
I have always loved this title. It's such a great idiomatic phrase.
8. Catch-22, Joseph Heller.
9. Because It Is Bitter, and Because It Is My Heart, Joyce Carol Oates.
Joyce Carol Oates has written approximately ten thousand novels. How many have I read? Zero. ZERO. Shameful. I chose this one for the list because of the great title, from the devastating and brilliant poem "In the Desert," by Stephen Crane.
10. The Magic Mountain, Thomas Mann.
What is this book, even?
11. Don Quixote, Cervantes.
When I was taking Spanish classes in college, I tried to read it in Spanish. Hahaha, that didn't work. I bet I can find a fancy leather-bound version of this that's not too expensive.
12. Cloud Atlas, David Mitchell.
The movie doesn't sound so good, though.
13. Half of a Yellow Sun, Chimimanda Ngozi Adichie
I didn't love Americanah, but I liked it a lot, and it stayed with me. It seems like everyone loved this one.
I would have put All The Light We Cannot See by Anthony Doerr on this list, but since I've already started it, I think that would be cheating. I expected to love it, and it's even better than I expected. The hardcover edition is gorgeous, too.
14. All Quiet on the Western Front, Erich Maria Remarque.
The National World War I Museum is in my town, Kansas City. It's a wonderful museum, and got me interested in reading more about this war. If you haven't read Rebecca West's novella, Return of the Soldier, I can't recommend it enough–the writing is brilliant.
15. The Guns of August, Barbara Tuchman.
More about WWI. This book won the Pulitzer, and it's on Modern Library's list of 100 Best Nonfiction Books of All Time.
More history books for my list…
16. London, a Biography, by Peter Ackroyd.
This is a big fat book that covers two thousand years.
17. The Empire of the Summer Moon: Quanah Parker and the Rise and Fall of the Comanches, the Most Powerful Indian Tribe in American History, S.C. Gwynne
This was a Pulitzer runner-up a few years back.
18. The Bully Pulpit: Theodore Roosevelt, William Howard Taft, and the Golden Age of Journalism, Doris Kearns Goodwin
19. The Rise and Fall of the Third Reich, William L. Shirer
This was on my parents' bookshelves when I was a kid.
I also want to know what life is like in other countries right now, so I've picked a couple of titles with that in mind…
20. The Age of Ambition: Chasing Fortune, Truth, and Faith in the New China, by Evan Osnos
Osnos was the Beijing correspondent for The New Yorker. This book won the National Book Award in nonfiction and was shortlisted for the Pulitzer.
21. Behind the Beautiful Forevers: Life, Death, and Hope in a Mumbai Undercity, by Katherine Boo.
This bestseller won the National Book Award in 2012 and made everybody's list of best books.
A couple of biographies…
22. John Brown, W.E.B. DuBois
23. Tesla: Inventor of the Electrical Age, W. Bernard Carlson
Moving on to philosophy and such…
24. Meditations, Marcus Aurelius, a newish translation by Gregory Hays
This is going to tell me how to be stoic, right?
25. Discourse on Method and Meditations on First Philosophy, René Descartes
I think I'll take this one to the beach.
26. Of Grammatology, Jacques Derrida.
One time I was at some type of symposium hosted by MIT Media Lab. They had seated me with erudite Europeans, and I had no idea what to say to them, so I asked them something about Derrida and they talked for about an hour. I've never read him, though. If reading about deconstruction gets in the way of my being able to write, I will set this book aside.
27.The Prince, Niccolo Machiavelli.
I strongly suspect this is overrated, but I've always been curious about it, and it sounds like a quick read.
28. The Art of War, Sun Tzu.
I think of this as a companion piece to The Prince, which may be completely inaccurate.
A couple of religious texts…
29. The Bhagavad Gita, translated by Eknath Easwaran
A classic of Hinduism.
30. The Tibetan Book of the Dead.
I have a couple of different copies somewhere in this house.
Some ancient and epic tales…
31. The Arabian Nights, anonymous, translated by Muhsin Mahdi and Husain Haddawy
Sometimes titled 1001 Nights. I bet this is going to be awesome.
32. The Iliad, Homer (a new translation by Peter Green)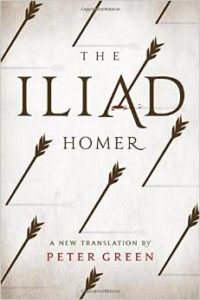 This is one of those classics that I sort of feel like I've read, but then again, I probably haven't?
33. Beowulf, translation by Seamus Heaney.
Actually, I have read Beowulf before, but it was a long time ago, and it wasn't Heaney's translation. I like Heaney's poetry.
Part of being educated, especially for a writer, is being genre savvy. I haven't read that much actual science fiction, so I put a few books on here…
34. Dawn, Octavia E. Butler
Dawn is the first book in Butler's Xenogenesis trilogy, and if I dig it, I'll read the other two books.
35. Do Androids Dream of Electric Sheep?, Philip K. Dick
More vintage scifi: the inspiration for the movie Blade Runner.
36. Oryx and Crake, Margaret Atwood.
The first novel in the MaddAddam trilogy. The only other book I've read by Atwood was The Handmaid's Tale, which was outstanding.
My knowledge of comics consists entirely of Neil Gaiman's Sandman (I didn't read all of them) and Daniel Clowes's Ghost World. Last fall, I got the opportunity to have dinner with Scott McCloud and his wife, and I heard him give a fantastic talk the next day. Before this, I read his clear and profound book Understanding Comics, which has a lot to say about storytelling in general. So here are a couple of comics choices…
37. Persepolis: The Story of a Childhood, Marjane Satrapi.
I've heard only great things about this autobiography.
38. Saga, Vol. 1-4, Brian K. Vaughan, illustrated by Fiona Staples
Two of my good friends adore Saga.
Detective fiction is another genre I don't know much about…
39. The Maltese Falcon, Dashiell Hammett.
I saw this movie, but it was so long ago I barely remember it.
40. Strong Poison, Dorothy L. Sayers.
Okay, I definitely need a couple of thrillers on the list, because again, I haven't read many.
41. The Thirty-Nine Steps, John Buchan
This is a 1915 spy thriller that Hitchcock made into a movie.
42. In the Woods, Tana French.
Here are a couple about economics.
43. The Wealth of Nations, Adam Smith.
This often shows up on lists of important nonfiction books, and also on the list of books that Neil deGrasse Tyson thinks everybody ought to read.
44. The Bad Samaritans: The Myth of Free Trade and the Secret History of Capitalism, Ha-Joon Chang
The rest of these are miscellaneous nonfiction.
45. The New Jim Crow: Mass Incarceration in the Age of Colorblindness, Michelle Alexander
46. Dominion: The Power of Man, The Suffering of Animals, and a Call to Mercy, Matthew Scully
Interestingly, the author is a conservative and a former speechwriter for President George W. Bush. I'm hoping this book will inspire me to become a vegan for real. I think it's the most ethical path, given the way our food industry works, and I've tried and failed several times.
47. The Empathy Exams, Leslie Jamison
My friend Kevin gave me a copy of this book, which was on the New York Times list of Notable Books for 2014. Thanks, Kevin!
48. The Bad Guys Won, Jeff Pearlman.
An online friend who lives in Ireland recommended this book about the 1986 Mets. It's about the last thing I would have thought to read, so I think I should give it a try.
49. Leave Your Mark: Land Your Dream Job. Kill It In Your Career. Rock Social Media, Aliza Licht
This is a new book by a successful fashion publicist. The title and cover design strike me as a bit obnoxious, but I bet I'll love it. Because social media changes so quickly, I'll probably read it soon.
(11.29.15 addition: since this post has gotten a lot of readers lately, I feel that I should not that this book was not useful to me. It still might be good for someone new to social media or just starting out in a professional career.)
50. Democracy in America, Alexis de Tocqueville.
Yeah, I don't even know what this is.
~
Making this list has confused Amazon's algorithms. It barely knows what to recommend to me at the moment. It's suggesting I buy a watch–as if to ask, How are you going to have time to read all these? My iPhone is my watch.
Have you read some of these? Do you love them? Hate them? What's on your list of books you want to read to become smarter? In the end, I think almost all books do.
If you enjoy posts about books, follow my blog–click on the button near the top right of the page. Thanks for reading!