Some people believe that romances aren't particularly feminist. These aren't usually people who have read a lot of romance.
Now "feminism" is a slippery concept. I've heard the argument that the romance genre is inherently feminist, since it's almost mostly written by women, for women. (Not entirely, though. A handful of male authors write romance under female pseudonyms, for instance, and about 15% of romance readers are male. And of course, some authors and readers are nonbinary.)  I can respect that point of view, even if I'm not sure that I agree.
At the very least, in most romance, you have a female protagonist. In 2015, only 22 percent of movies had female protagonists, which was a ten percent increase over the year before. 79% of TV shows had more male than female characters, and there were slightly fewer female characters on TV overall than there were a decade ago. Stories with female protagonists are important because when we mostly see women playing minor roles in men's stories, it suggests to us on a deep, subconscious level that women shouldn't or can't take starring or leading roles in their own lives.
The difficulty about labeling a story "feminist" is that almost any story, TV show, or movie will be "problematic" in one way or another if you think about it hard enough. People can identify as feminists and still enjoy some stories that have sexist elements.
Nonetheless, lots of us are looking for romance featuring heroines who make their own choices to the extent that they can, or who learn to do so over the course of the story. We're looking for relationships that mirror respect and equality, and intimate scenes that are strictly consensual.
This list was partly crowdsourced because I like very particular things in romance and I wanted to represent a wider range of choices. I also wanted some new reading recommendations! I didn't include any same-sex male romances because the ones I've read and enjoyed hardly had any women at all. If you want to recommend one that's particularly feminist, though, please do.
These are in no particular order! Most if not all of the books on this list contain explicit sex scenes, so fair warning if you don't enjoy that in a book.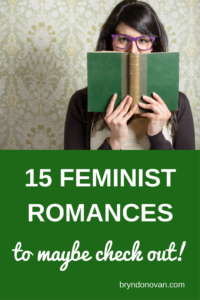 The Duchess War, Courtney Milan.
When I asked around about feminist romances, more than one person mentioned Milan. This book is the first in the Brothers Sinister series, which also includes The Suffragette Scandal.
Abigail Barnette is a pen name of Jenny Trout. If you like billionaires and BDSM, but 50 Shades of Grey and 50 Shades Darker still rubbed you wrong as a feminist, you might want to give this one a try. Note that it's the first of a five-part series.
What's that? You'd rather the heroine were the wealthy, powerful one in the story? This one's for you.
Archer has a bunch of great feminist romances, and she's currently writing Regency romance under the name Eva Leigh. This is the first of the Blades of the Rose, an historical series that I have a soft spot for because they were the first books I read by her and because they have magic in them.
Kiss the Girl, Melissa Brayden.
This romance between two women who are rivals in the advertising world is the first of Brayden's SoHo Loft novels. I've heard more than one person recommend this series, and it sounds like a lot of fun.
The Leopard Prince, Elizabeth Hoyt.
This was the first Elizabeth Hoyt book I read, and I've enjoyed so many of her novels over the years. The heroine of this one, Georgina, is sometimes naive about economic realities, which I'm sure many people in the upper class were (and still are). Nonetheless, she's intelligent and independent, with a whimsical way of thinking that I really enjoy. and it's fascinating to see she and Harry, her servant with whom she has an affair, navigate class and gender expectations.
This emotional young adult romance centers on a heroine who's a survivor and who can feel everything another person feels when she touches him or her.
Three Weeks With Lady X, Eloisa James.
The hero hires the heroine to renovate his house, but then their relationship goes beyond the professional. James is an outspoken feminist, and you can read more about her in her interview with Vulture a few years back.
This is actually book 3 in Hart's Finding Home series. It opens with a bang — literally — and jumps right into the action. Because I'm kind of a nerd, I enjoyed having a professor as the heroine and a journalist as the hero. I haven't read a lot of small-town romances with diverse characters, and the strong supporting cast here is a plus.
Dahl wrote historical romance for a long time, and this was her first contemporary. The heroine secretly writes erotic romance, and is unfortunately being stalked by her awful ex-boyfriend. The hero sounds like the kind of good guy I love in a romance.
A Curious Beginning, Deanna Raybourn.
Okay, this is actually a mystery, not a romance. But it's cross-listed in the romance category, and since a couple of people recommended Raybourn — including Courtney Milan — I felt like she should be on the list. This book sounds like a super-entertaining start to a Victorian-era series.
Do You Want to Start a Scandal, Tessa Dare.
This is one of Dare's Spindle Cove books, which also got mentioned more than once when I was asking around about feminist romances.
Beauty and the Geek, Sidney Bristol.
The hero, a professor, has a big port wine facial birthmark that makes him feel self-conscious about dating. (Side note: in college, I dated a guy with the same and I didn't think it was an issue. He wound up marrying a drop-dead gorgeous woman, if I recall correctly.) Online, he meets the heroine, an Asian woman working in the male-dominated gamer industry. I think this sounds like a blast.
The Better to Kiss You With, Michelle Osgood.
Online interactions are also a big part of this one: the heroine is the moderator for a werewolf role-playing game, but she's getting harassed by a player. She falls for the woman who lives upstairs from her, who may have a pretty close connection to this game.
Welcome to Temptation, Jennifer Crusie.
Publishers Weekly described this as a "saucy feminist romp." The review also says, "Sophie's effort to enact the mayor's favorite sexual fantasy is thwarted by interruptions by various townspeople confessing to murder," which is enough to make me want to read it.
If you have recommendations, I would love to hear them, and I bet other people would, too — please let us know in the comments! If you have thoughts about reading while feminist, or about what you'd like to see more of, please share those, too. Thanks so much for stopping by, and happy reading!