Hi friends! Late last year, I taught an all-day blogging workshop, and people were especially interested in this particular bit of advice about how to get people to read your blog. Although I don't usually share blogging tips, I know a lot of my regular readers ae also bloggers, so I thought I'd write a post about it.
Some of you may already be using Pinterest to drive a lot of traffic to your blog! But if you haven't used Pinterest for your blog very much, or you're just reading up on how to start a blog, you might find this interesting.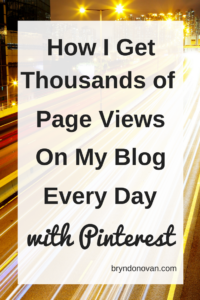 The majority of my page views come from Pinterest.
Here's a snapshot of a fairly typical day for me, showing how people are getting to my blog.
(That image is cut off at the bottom, but there's a bunch of other referrers of one or two page views apiece, including Pinterest from more countries.)
The secret to my page views from Pinterest: group boards.
I don't have a ton of followers on Pinterest. So far, I've never tried to get followers there, and the majority of my boards are just random personal stuff.
However, I also pin to several group boards. They are mostly ones about writing, because I blog about that a lot. These group boards have thousands of followers. When I pin my blog articles to these group boards, they get a lot of visibility.
Here's how to become part of a group board.
Go to pingroupie and search for group boards that focus on the same things as your blog. Look for boards that have lots of followers.
Now comes the tricky part: getting added as a pinner.
First, click on that circle with the number of pinners at the top right of the board. The first person listed will be the creator.
Next, send the creator a direct message on Pinterest and ask her to add you. Now, sometimes people aren't checking their Pinterest messages. In cases like this, you can sometimes find an alternate way of contacting them, like tweeting or finding their business's Facebook page and sending them a direct message there.
Some people won't respond no matter how you contact them. And a few people will tell you "no" for whatever reason. But other people will add you as a pinner.
Make pinnable graphics with good metadata.
I use Canva to create the graphic on my post that I will later pin to Pinterest. (Of course, readers often pin these graphics to their own boards, too.) Canva has a Pinterest post template that's the perfect size for pinning.
My graphic always features the title of the post. I'm not a designer, and my graphics could look more professional, but I try to make them bold and easy to read.
In the image description, I write the name of the post plus any hashtags that would be helpful for people searching on Pinterest.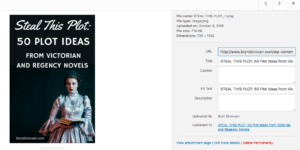 For instance, for the above graphic, the image description reads:
STEAL THIS PLOT: 50 Plot Ideas from Victorian and Regency Novels #master plots #idea starters #NaNoWriMo #novels
(That post is right here, by the way, if you're curious.)
At first it seemed awkward to me to repeat my title in the Pinterest graphic, but now I don't worry about it. I usually put the Pinterest graphic after an introductory paragraph. You don't want to replace the title with the graphic, because Google and other search engines can't read the words in pictures. If you don't have an actual title, people are unlikely to find your post through a Google search.
By the way, for images, I mostly use stock photography that I've paid for. Occasionally, I use images from Canva, which cost $1 apiece, or images from Pixabay, which are free and legal to use (but I generally donate $1 to the photographer, anyway, because it's good karma.) Do not use images without permission. You can get sued for thousands of dollars, and besides, it's disrespectful to your fellow creative people.
Be a good team player.
Most people who create group boards have pinning guidelines, and you want to follow those. No one will mind you pinning your own blog posts as long as they are on topic, and as long as you're not spamming the board with a bunch of pins at a time.
Know when to pin.
In my experience, Pinterest traffic seems to be the highest on late Saturday and late Sunday mornings. When I pin my blog posts then, they get more repins right away.
Keep it up!
It will take a while for a pin to get a lot of repins and pick up steam, and some of them never do. But if you consistently share out blog posts to Pinterest group boards, Pinterest is likely to become a steady traffic driver to your blog.
Do you have other advice for using Pinterest for your blog, or other ideas for how to get more readers on WordPress? Please share them in the comments! And if you enjoyed this post, follow the blog — there's a place to subscribe below. Thanks for reading!