Why did I make a list of what sound to me like some of the best travel books, novels set in other countries, and so on? Well, if you're like me, you're curious about other countries and other parts of the world…you dream of traveling to dozens of countries…and you don't have nearly the kind of budget that could satisfy your wanderlust.
Luckily, book lovers can be armchair travelers. And they can even travel to different eras of different countries, which not even the wealthiest tourist can do in real life. Of course, not all of these books depict experiences that you'd necessarily want to have as a real-life traveler, but I think that enriches our understanding of the world even more. Take a look!
1. Atlas Obscura: An Explorer's Guide to the World's Hidden Wonders, Joshua Foer, Dylan Thuras, and Ella Morton.
Oh, man. I have to have this book. I am just crazy about the website Atlas Obscura, which is always introducing me to unusual, mystical, and fascinating travel destinations. I follow them on tumblr, now that I'm back on there again (and if you want to follow me there, here I am — I'll probably follow back!) I love the midcentury modern cover design of this volume.
2. Next Year in Havana, Chanel Cleeton.
This is a recently published novel (at the time of posting) about a Cuban-American woman who explores Havana and her grandmother's past.
This creepy supernatural thriller takes place in various European and U.S. cities, and it includes vivid descriptions of neighborhoods and trains. The depictions aren't at all romanticized, which somehow makes me want to experience them firsthand even more.
4. Please Look After Mom, Kyung-Sook Shin.
I just bought this book. It's a story about a family's search for their mother, who disappeared in the crowds one afternoon at the subway station in Seoul. The novel sold more than one million copies in Korea — amazing, in a country of just 51+ million people — and this is the English translation.
This bestselling multi-generational novel is also set in Korea (and maybe also in Japan? I don't know — I haven't read it yet.) It's earned about every accolade and award you can imagine. A few friends of mine have told me it's great.
6. Americanah, Chimamanda Ngozi Adichie.
This novel takes place partly in Nigeria and partly in the United States. Because I knew so little about Nigeria, I especially enjoyed the parts of the novel that were set there.
7. Going Into Town: A Love Letter to New York, Roz Chast.
I've been a fan of Chast since I was a teenager. I got to meet her once, and I loved talking to her…and later, other people in the meeting said that she and I have similar mannerisms. 🙂
8. A Long Way Home: A Boy's Incredible Journey from India to Australia and Back Again, Saroo Brierley.
The movie Lion, starring Dev Patel, was based on this amazing story. I bet the book is even more fascinating!
9. White Tiger, Aravind Adiga.
This award-winning novel is also in India, and it's been on my TBR pile for about ten years! Do you ever have books like that? It's about a taxi driver, and I expect it to be a rough ride.
10. The Nordic Theory of Everything: In Search of a Better Life, Anu Partaken.
How adorable does this book look?
11. The Elegance of the Hedgehog, Muriel Barbery.
So many of my friends have recommended this novel to me! It takes place in a sophisticated apartment building in the 7th arrondissement of Paris.
12. A Paris Year: My Day-to-Day Adventures in the Most Romantic City in the World, Janice MacLeod.
If you're more interested in a nonfiction book about living in Paris, this one's gotten high reviews for the memorable details and the author's beautiful watercolor illustrations.
13. In a Sunburned Country, Bill Bryson.
I listened to this one on audiobook. Pretty entertaining, and I really did learn a lot about Australia.
14. Istanbul: Memories and the City, Orhan Pamuk.
A memoir and an evocative portrait of the city from a Turkish writer.
15. Putin Country: A Journey Into the Real Russia, Anne Garrels.
This is a nonfiction book by the former senior foreign correspondent for National Public Radio in the U.S. It includes her interviews with doctors and teachers, members of the underground gay community, activists on behalf of orphans and the disabled, and more. I think it sounds like a fascinating, although not uplifting, read.
16. Call Me By Your Name, André Aciman.
I just saw the film based on this book a few weeks ago. It's a gorgeous, emotional movie that makes the most of the Northern Italian setting. I still haven't read the book, which sounds as though it's more physical and obsessive than the movie. Some people felt squeamish about the age difference between the characters (one is 17, one is 24). I didn't, given the way the story plays out, as well as my own romantic history, but I can understand why people would.
17. The Best American Travel Writing 2017, edited by Lauren Collins.
I've enjoyed this series for years, along with Best American Science Writing.
18. Born a Crime: Stories from a South African Childhood, Trevor Noah.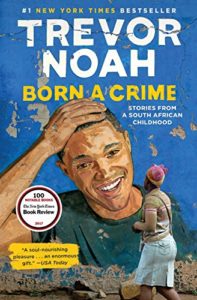 I don't watch The Daily Show (or much TV, period), but I've heard good things about this memoir by the host.
19. Knots and Crosses: An Inspector Rebus Novel, Ian Rankin.
This is the first in a series of detective mysteries starring a police officer in Edinburgh, Scotland.
20. The Tea Girl of Hummingbird Lane, Lisa See.
This novel from the author of the hugely popular Snow Flower and the Secret Fan takes place in the 1980s in an isolated village in China and in California.
21. London: A Biography, by Peter Ackroyd.
One of the New York Times's Notable Nonfiction Books a few years back, I also had this on my list of books that might make me smarter. I really enjoyed this one.
22. The Crystal Desert: Summers in Antartica, David Campbell.
Oooh, I read this one when it first came out and I just loved it.
23. In the Woods, Tana French.
A New York Times bestselling thriller, this is set in the suburbs of Dublin. It's another one I've wanted to read for a while.
24. The Travel Book: A Journey Through Every Country In the World, from Lonely Planet.
It seems like this big (but not that expensive) coffee table book would make a great gift.
25. The Perfume Garden, Kate Lord Brown.
A novel about a forgotten villa in the hills of Valencia, Spain, surrounded by orange trees, sounds like a great escape.
Have a recommendation for another book? Did I leave off your favorite country? (I probably did.) Let me know in the comments! Thanks for stopping by, and have a great week!