(By the way, I am not drinking champagne on a beach in France, as the photo implies. I'm on my way back to Kansas City, and I'm glamorously drinking champagne in an inexpensive hotel room in Amarillo, TX. I just thought it was a nice image!)
As I said in my video about my New Year's resolutions, 2015 was a pretty amazing year. Of course, even the best year brings some difficulties and disappointments, and even the worst year brings some things to be grateful.
But in 2015, I had a lot of reasons to be grateful. Here are 15 of them!
1. Meeting the Scoobies – a group of fascinating, creative women who write, right in Kansas City.
2. Getting to see the redwood forest with Mr. Donovan! Here's me hugging a giant tree.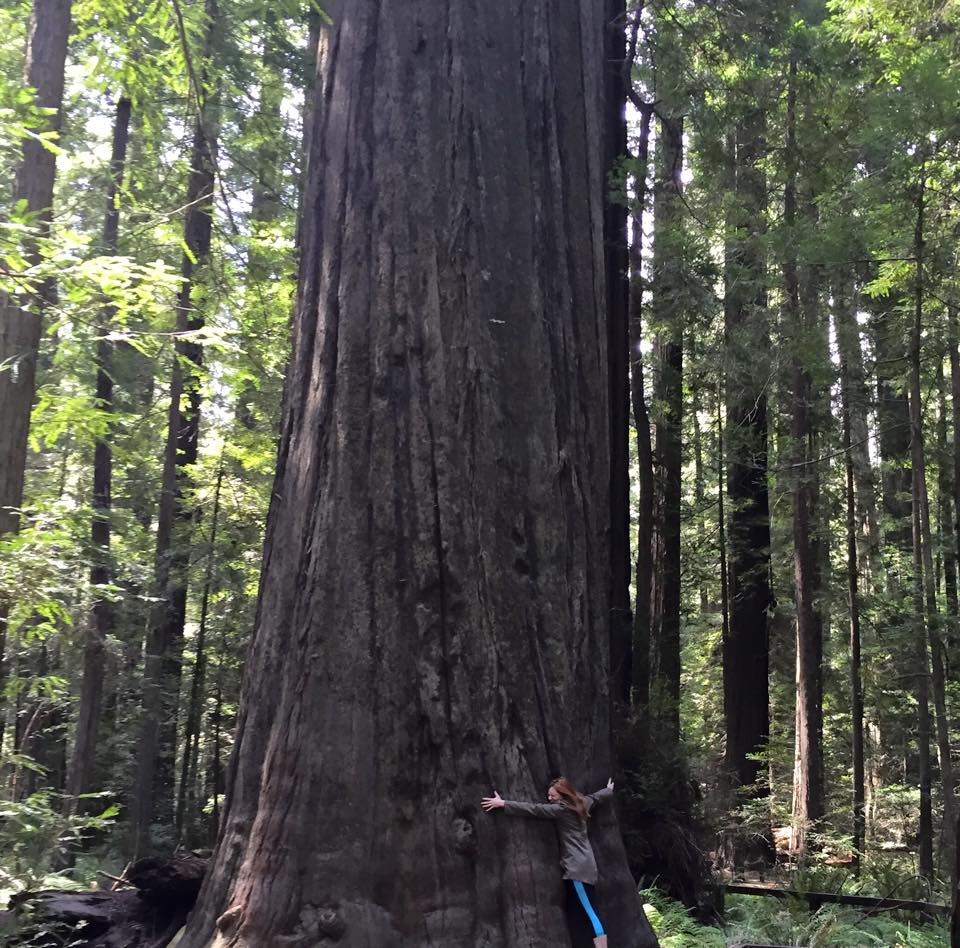 3. Seeing the Royals win the World Series! Kansas City is a beautiful place, and this brought out the best in us.
4. Receiving an "American Hero" award from the National Kidney Registry at a fancy dinner at the Waldorf Astoria hotel in New York City, because I donated a kidney to a stranger the year before.
(I didn't know donors were going to get awards. I just showed up for the fancy dinner. Let this be a lesson to you: don't pass up fancy dinners.)
5. Getting a "Caught in the Act" award from Random Acts, the nonprofit of one of my favorite actors, Misha Collins of Supernatural, for the same reason. This was even more unexpected! Geek that I am, I was particularly thrilled to have a certificate signed by Mr. Collins. My amazing friend and fellow SPN fan Michele nominated me. (She has a terrific blog, by the way!)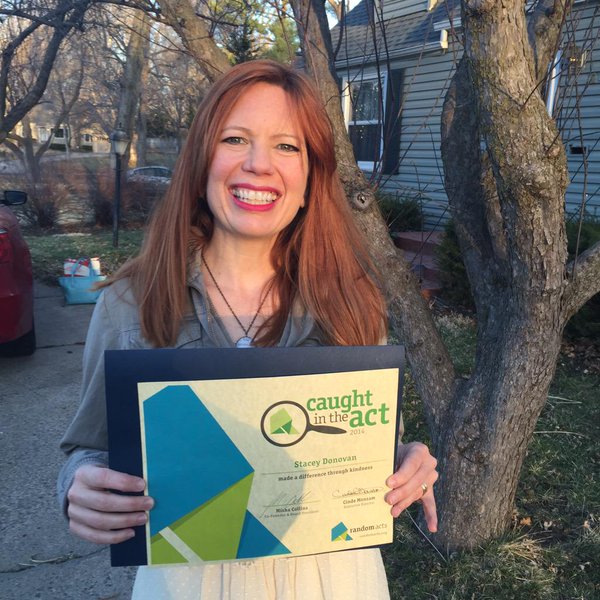 I always feel embarrassed talking about the donation (including posting about it right now), because people give me way too much credit for something that was not that hard for me. I talk about it anyway because I figure, who knows? Someone else might see it sometime and think, "Hey, I could do that."
6. Being healthy all year. This is the kind of thing that's way too easy to take for granted, but it's one of the best blessings a person could ask for.
7. Finding a voice and direction for my blog.
8. My blog inspired my book, Master Lists for Writers, which launched in October. Lots of people liked it!
9. Getting my family together in Chicago over the summer…
10. And spending time with my family and Mr. Donovan's family, over the holidays!
Here's me with my grandma at Thanksgiving. Isn't she beautiful? Friends. She is 95. And sharp as a tack! I know, I've got some great genes going for me.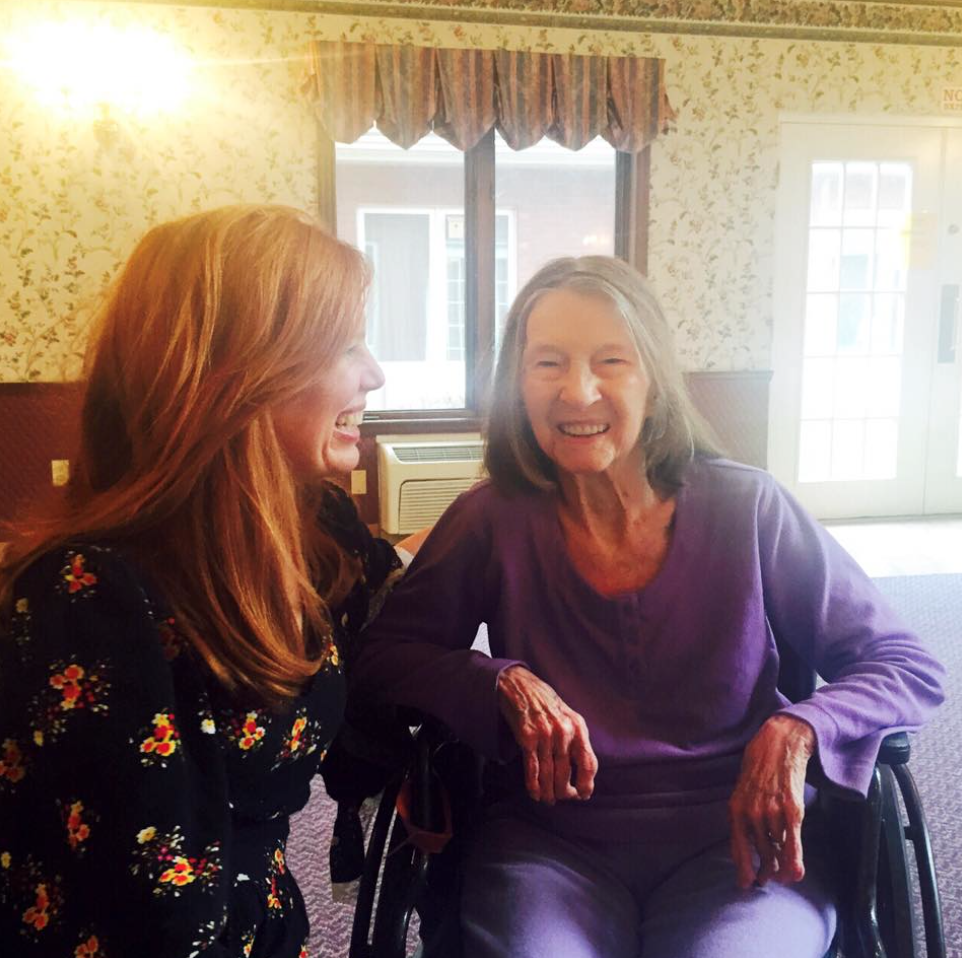 11. Talented friends of mine made a poem I wrote into a video!
12. Having my own line of cards in the Hallmark stores. This was a once-in-a-career kind of thrill! I think my mother will never stop bragging.
The other day I popped into a card shop to buy my Yankee candle for January (yes, I have a Yankee candle for every month – shut up 🙂 ), and the salesperson immediately asked me, "Are you here to check on your card collection?" She recognized me! I was so surprised.
13. I celebrated an anniversary with Mr. Donovan. Not a milestone, but then again, they're all kind of milestones, right? I married him when I was 23, and I love him more all the time.
14. I got to be even better friends with some of the wonderful, supportive, talented, and hilarious people I work with. I am so lucky to know them, I can't even tell you.
15. And I made new friends with talented, fascinating people online! Yes!
After I post this, I'll probably think of more things! Looking back, I really think 2015 was my best year yet, and I believe 2016 will be even better.
What were you grateful for in 2015? I'd love to hear! HAPPY NEW YEAR! Cheers!