You might have heard that last night, the Kansas City Royals won the World Series. If you don't live in Kansas City, you cannot imagine the pride and exhilaration we're feeling. My throat is sore from cheering for them! We are all unified in our Royals love, and it's a beautiful thing.
I don't think the rest of country knows much about Kansas City, which is too bad, because it's an amazing town. Our mayor Sly James wrote a wonderful open letter to America about us last year, and it's more appropriate than ever.
I wanted to add to that by sharing with you some of the beautiful things about Kansas City. There are good reasons why the Huffington Post named Kansas City THE place to be,
Clicking on most of the photographers' names will take you to their Flickr account! If it's an unimpressive square photo, it's from my instagram.
1. The Kauffman Center for the Performing Arts. (Beautiful photo by Michael Stano.)
Look at this thing. Moshe Safdie designed it, and it's like an elegant space station rising up out of the prairie. It's just as lovely inside, and the view from it at night is magical. (Here's me inside, a year or two ago…)
2. The nachos at FUD.
Kansas City is most famous for barbecue. Anthony Bourdain named Joe's Kansas City (formerly Oklahoma Joe's, but a Kansas City institution) as one of the 13 places to Eat Before You Die.
It's a great town if you like deliciousness in general. I don't live in a fancy place, but Café Provence, voted one of the top 10 French restaurants in the U.S., is a mile from my house. Travel and Leisure named Kansas City the #3 town in the U.S. for foodies.
In a city like this, nachos can get overlooked. I am not even close to being a foodie, but FUD's nachos are the best I've ever had, including all the nachos I ate in Tucson. And they're vegan? It makes no sense. I am not a vegan, having tried and failed seven times, but I love these so much. Ugh, I want some right now.
Incidentally, Joe's Kansas City makes a vegetarian BBQ sandwich, and it's killer.
3. The parking garage at the downtown Kansas City Public Library. (Terrific photo by Tom Childers.)
Isn't it great?! Here's a great closer-up view by Auntie G.
4. Kansas City Union Station. (Gorgeous photo by Notley Hawkins.)
This is right by where I work. Sometimes I go over there at lunch to mail something.
5. The Meyer Circle fountain on Ward Parkway. (Lovely photo by Michael Krueger.)
Mr. Donovan and I pass this one twice a day, going to and from work.
6. Prospero's Books.
Fun fact: I participated in the world's longest continuous poetry reading at this bookstore. It's a great independent store stuffed full of books. Don't forget to check out the basement!
7. The J.C. Nichols fountain on the Plaza. (Beautiful photo by David Arbogast.)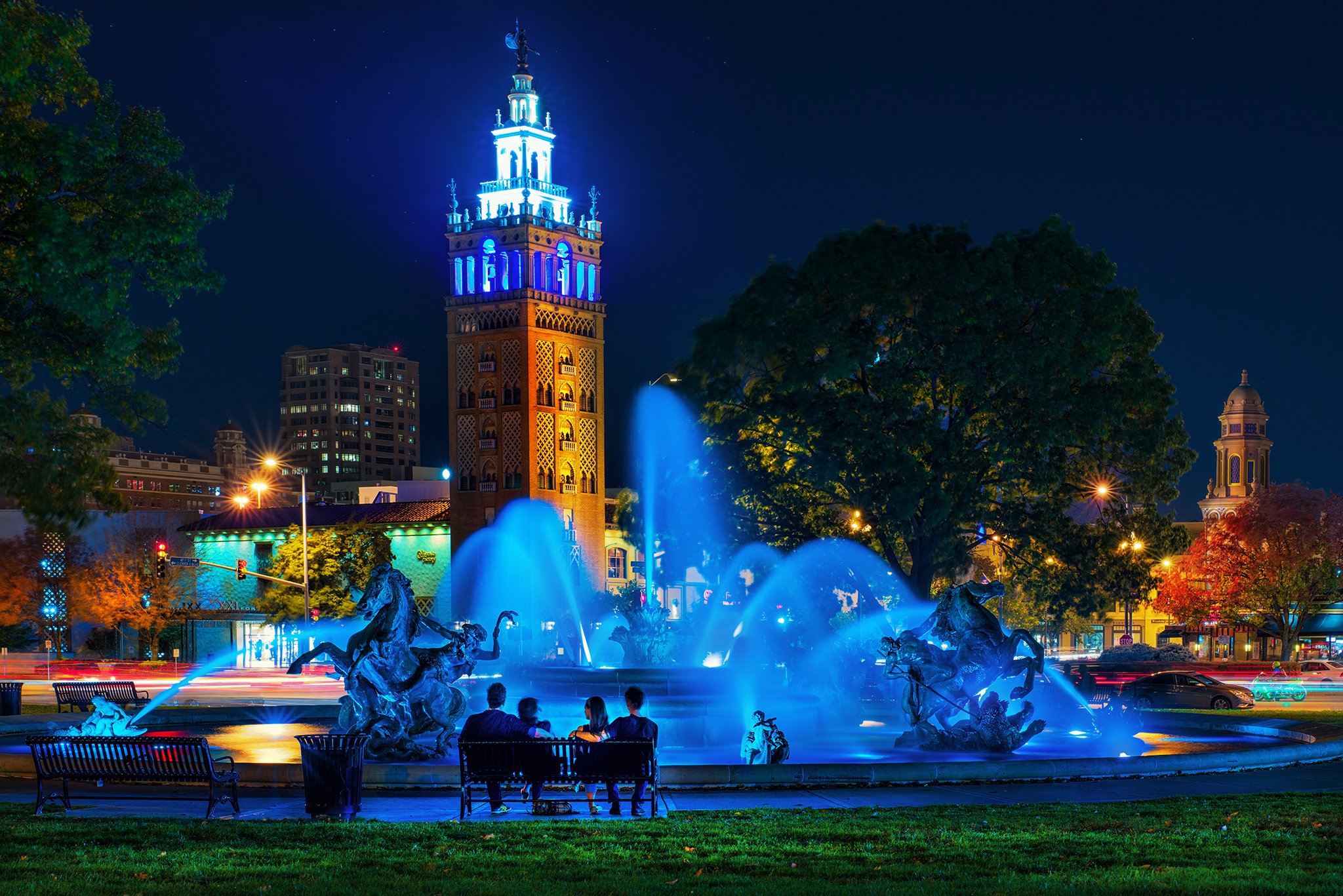 Here it's been turned blue in honor of the Royals. If you are starting to think, "Hey, it seems like these guys have a lot of fountains," you are correct! 10 points to Gryffindor (or whatever your house is)! Kansas City is called the City of Fountains, and we have more than any other city except Rome.
This is very close to where our haunted apartment stood. I think we have no more than the average number of ghosts.
8. The Plaza holiday lights. (Another stunning photo from David Arbogast.)
While I'm talking about the Plaza, this an obligatory item on the list.
9. Crown Center holiday lights. (Beautiful photo by Jonathan Tasler.)
This is where I work, and it also looks great at Christmas.
10. Loose Park. (Lovely photo by Canicuss.)
Most Loose Park photos are of the beautiful rose garden in the summer, but it's pretty in the fall, too.
11. The Marching Cobras.
They are electrifying in person, and seeing them makes me cry, because it always makes me cry when kids do great things. I don't know why.
12. Laura Little's Candies. (Great photo by Ben Hartman, from Kansas City Blogger Local.)
This is a shop around the corner from me that sells homemade chocolates and cookies and other delicious things, at very low prices, and it's the cutest place in the world.
13. Rozelle Court, Nelson-Atkins Museum. (Super cool photo by Patrick Emerson.)
I love everything about the Nelson, and this is a really special place. The last time I was here, I was interviewing a museum conservationist about her work for a writing project.
14. Caravaggio's John the Baptist in the Wilderness.
This is one of my favorite pieces in the Nelson. I guess it's probably everybody's favorite.
15. The Kauffman Memorial Garden. (Great photo by Mike Day.)
The prettiest little public garden, right in the middle of the city.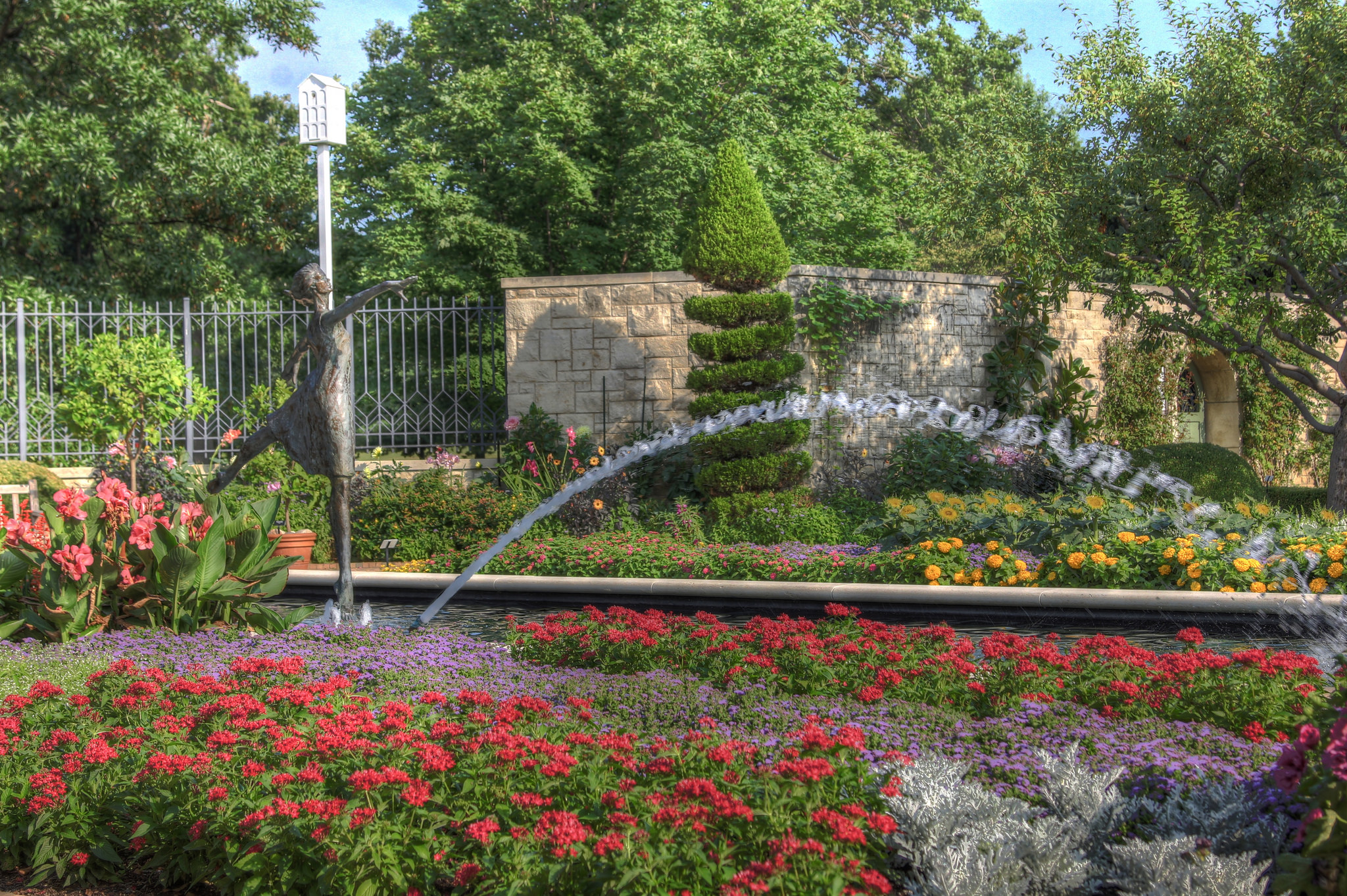 16. The real estate prices.
People who live everywhere besides Kansas City see our housing prices and rents and weep.
17. Liberty Memorial and the National World War One Museum. (Another awesome photo by Mike Day.)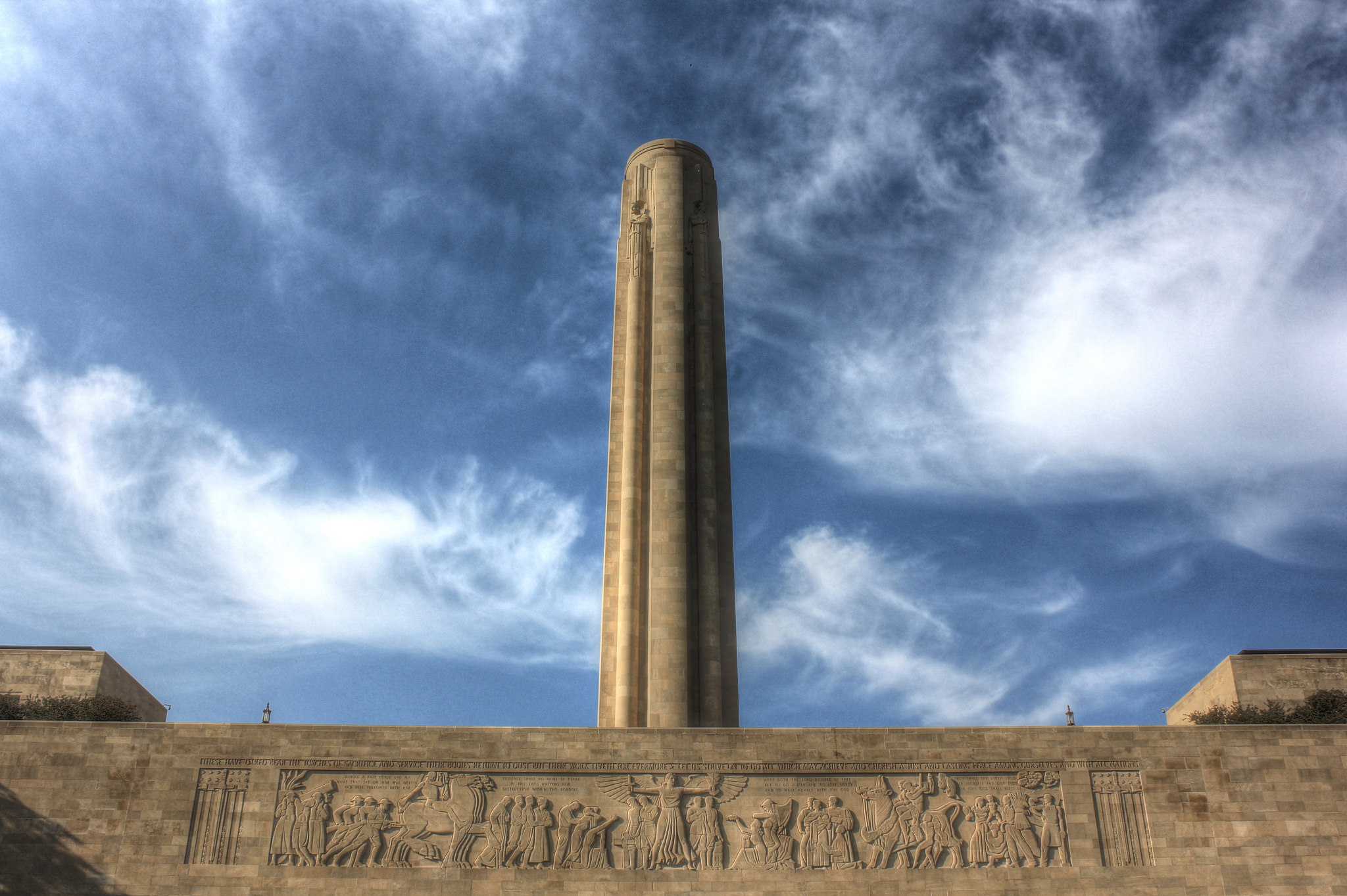 I am always trying to get people to go to this fascinating and beautifully designed museum.
18. The Power and Light District. (Great photo by Joe Ledford, from kansascity.com.)
Where a lot of us watch the away games! Years and years ago, downtown Kansas City was kind of bleak. Now it's hopping. What can we say? We're good at comebacks.
19. The people.
Kansas City has the nicest people anywhere. During last year's world series, a Giants fan wrote this letter about it that went viral. It didn't surprise me at all.
But I want to give a shoutout especially to the creative people in my hometown. Kansas City is full of writers, artists, performers, directors, and combinations thereof. In my experience, creative people in Kansas City build one another up. Where others would see competition, they see opportunities for collaboration and growth. Instead of thinking about doing things, and theorizing about what it means to do things, and defining who they really are as an artist, and criticizing other people who do things (such a popular pastime elsewhere)… they just do things. And that's beautiful.
~
If you're from Kansas City, what did I leave out? And if you're not from Kansas City — maybe you should visit sometime!