Last Sunday, Mr. Donovan and I got back from spending a week in Reykjavik and touring other parts of Iceland. We were celebrating a milestone anniversary! If you're a regular reader of my blog (thank you if you are, you are wonderful!), you know that I haven't traveled a ton in my life, I very much want to travel more, and I believe that travel isn't the only adventure.
But anyway. It was a wonderful week, which you probably already knew if you follow me on Instagram. Iceland is amazing. And in case you're looking for travel tips on what to see there, or you're just curious, here are some reasons why! (P.S. on the big videos, you'll have to click "play" — they won't start automatically.)
The land isn't done making itself yet.
There were big volcanic eruptions as recently as 2010. A lot of the land is comprised of lava fields, some of them covered over by moss. The North American and European tectonic plates leave giant cracks and chasms in the earth.
Here's a view from inside a lava cave. (In the HBO production of Game of Thrones, Jon Snow loses his virginity in this cave. Frankly, it would be a terrible place to lose your virginity… the whole cave floor is sharp boulders.)
.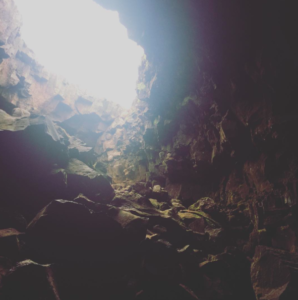 This black sand beach with basalt columns was one of my favorite places.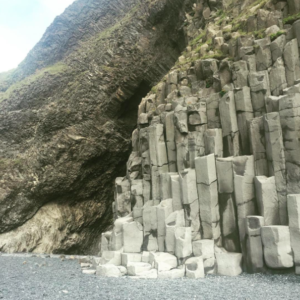 I've been told that these rock outcroppings on the beach used to be trolls. They turned to stone because they got caught out in the daylight. I can neither confirm nor deny this story.
The whole country is powered on renewable geothermal energy.
It's a raw, volatile landscape that fills you with its energy.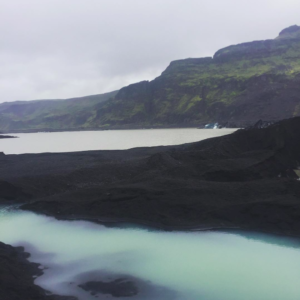 We took advantage of the geothermal pools… both a small one…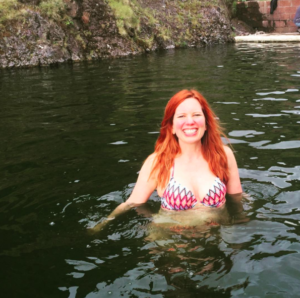 And the big famous one, which deserves its own section.
They have The Blue Lagoon.
The Blue Lagoon is a huge naturally heated pool, and every tourist visits it. It's like the Eiffel Tower. We purchased the very expensive admission ahead of time, and took a bus there in the evening through wind and icy rain.
We were thinking, "This is ridiculous. Maybe we'll be in the water for five minutes." The locker room was crowded and chaotic, the lockers themselves incredibly confusing. And then we got out in the water.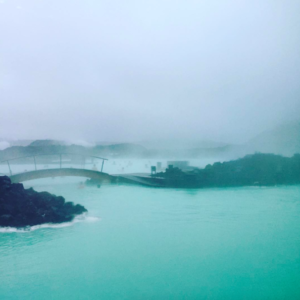 Because it's so big and they only let so many people in, it doesn't feel crowded at all. It's misty and dreamlike. We went and got our glasses of sauvignon blanc from the swim-up bar, found a particularly hot spot where the big lava rocks shielded us from the wind (which didn't bother us at all, once we were in the water), and had a long, romantic conversation. It was an incredible experience.
There are big, beautiful, breathtaking waterfalls.
Mr. Donovan and I have seen some waterfalls in my time. We've hiked down the Grand Canyon to swim at the foot of the Havasupai Falls. We've been to Niagara. But the waterfalls in Iceland are just…
Wow.
You can even stand behind a huge one!
Iceland doesn't think of itself as small.
Iceland has a shockingly low population. 330,000 people. The Kansas City metro area has about 2.2 million people, and nobody thinks of us as a big city.
Iceland's football team beat England this past summer. England has 53 million people! And they really like their football! An Icelandic woman, Katrin Davidsdottir, won the 2015 CrossFit Games and earned the title of Fittest Woman on Earth.
Two different Icelanders told me that Icelanders tend to be positive, and it certainly seemed that way to me.
They do amazing things in Iceland. Look at this church they built, Hallgrímskirkja (the statue in front is of Leif Erikson.)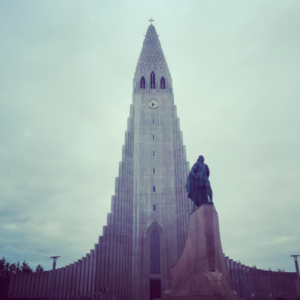 They turned old water tanks into a beautiful building. It's called The Perlan…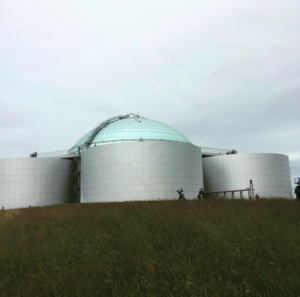 And here's what it looks like inside.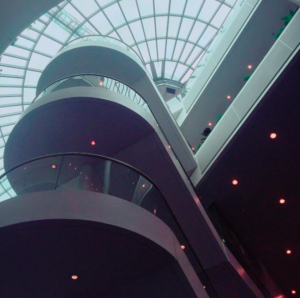 They make beautiful artwork! This is a piece by Rósa Sigrún Jónsdóttir. The flowers are crocheted – can you believe it? She stiffened them with bookbinder adhesive.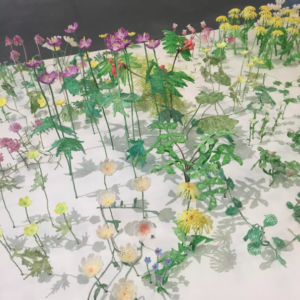 Here's a closeup: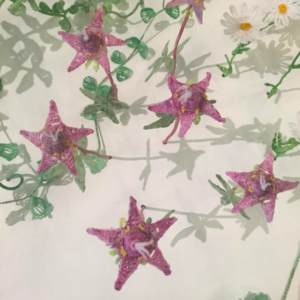 Even Iceland's small horses don't think of themselves as small. Don't call them ponies. They are horses.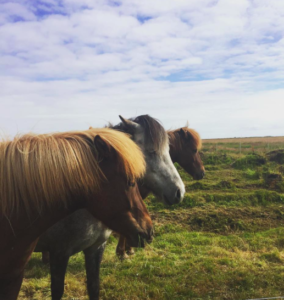 I am so deeply grateful that I got to take this trip. And it reminded me that I'm not done forming, either… and that I can do big things. That's true for all of us.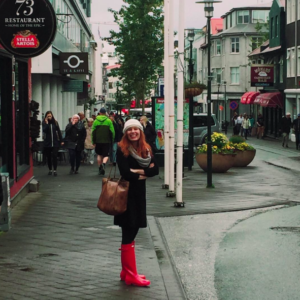 If you've visited Iceland, or you live there, I'd love to hear from you in the comments section. Or if you've ever been inspired by a trip, I'd love to hear about that, too. Thanks for reading!