A little over two years ago I made this list of 101 Life Goals. I've made a few changes since.
Hey, it's my list. I can do that. And I could change it every day if I wanted to!
But the vast majority of those goals are the same. I haven't done a ton of them yet, but I've done a few!
Be Careful What You Wish For…Seriously
One thing that wasn't on the list? Helping to start a publishing company. For a while, I was asking myself why I was working on such a big new venture that wasn't even on my list!
But look at all the things that are on my list. Visit Joshua Tree National Park. Visit Sequoia National Park. Go to ComicCon. Go to the Rose Bowl Parade. And so on.
I'm suggesting that Someone took a look over my list and said, "Hmm, I think these would all be a lot easier to accomplish if you lived in California."
Look, Mr. Donovan getting laid off wasn't fun. And moving for my job was hard. Even as we were packing up and moving to Los Angeles, the fact that it would make so many things on my list so much easier to do didn't even occur to me. But there you are. We both feel like it turned out to be the best thing for us.
In fact, one of the goals that I thought was an outlandish, never-going-to-happen type of goal — Be on a talk show — has already happened. Twice. When I wrote that down, I couldn't imagine how or why it might come about, and it was one of the first ones I ticked off.
Here's me on TV. Both segments are mostly about baking the recipes in the back of our books! But in the first one, I talk a little about one of our books, and in the second, I talk about my own book, Sunrise Cabin.
It could be that the other "outlandish" goals on my list aren't as far away as I think, either.
Anyway, Let's Talk About Joshua Tree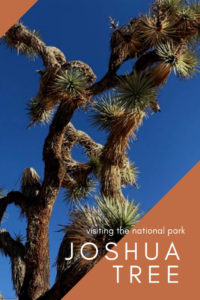 Mr. Donovan and I, along with our little dogs, headed to Phoenix this past weekend to visit his family. Joshua Tree National Park is right on the way! We stayed at the Best Western in Yucca Valley, because it was close and they allow dogs.
Just a tip: because the park is about a two-and-a-half hour drive from our apartment and an even shorter drive from downtown, this could easily be a day trip from Los Angeles if you're visiting California. (Just don't leave from Los Angeles on Friday afternoon on a holiday weekend, because that time will double.)
Naturally, as we drove into the park, we listened to U2's The Joshua Tree album (which has my vote for best rock album of all time.)
We couldn't bring the dogs on the trails. Maybe that's just as well, since there are rattlesnakes and scorpions in this part of the country, and one of those could kill a little dog. I was wearing my cowboy boots, which are practical in the desert for this reason.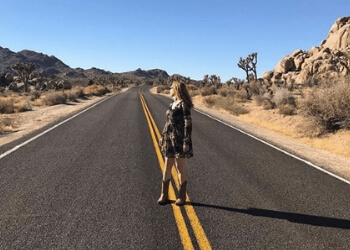 We didn't see or hear any rattlers, though we did see one of these guys: a roadrunner. He was running across the road (as they say, username checks out.) This is a stock photo, but he looked exactly like this.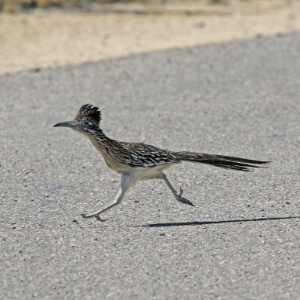 The park is an amazing place for climbing on rocks, which would require different footwear.
It's very easy to pull over just about anywhere and wander into the park a little ways to take pictures.
I didn't realize that there would be flat expanses of thousands of little Joshua trees…almost like a giant orchard. (This was impossible for me to capture in a good photograph on my iPhone.) But some of the trees were much bigger than I expected.
Joshua Tree is a designated Dark Sky park, which means it has very little light pollution and would be a perfect place for summer stargazing or even meteor shower viewing. It might be one of the best places in California to see the Geminid meteor shower in December! But Yosemite, which is also not far from Los Angeles, also has a very dark sky.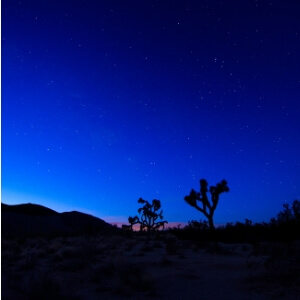 You can camp in several parts of the park, and we might be interested in doing that in the future.
But for this time, we spent some time in the park on Friday afternoon, and we drove through all of it on Saturday morning on our way to Phoenix.
So that was life goal #16.
How did it make me feel?
I felt peaceful, wild, and free…about a million miles away from worries and the rest of my busy life.
Was it worth It?
Yes!
Have you visited any interesting places lately? Is Joshua Tree on your bucket list? If not, what places are? Let us know in the comments! Thanks for reading, and happy adventuring!