Happy October! How's everyone doing? Historically, October has always been my favorite season of the year. Now that I'm in California, October is still summer, but I'm still drinking pumpkin spice lattes.
For anyone new to the blog: on the first Wednesday of every month, I share an excerpt of a work in progress and invite you to do the same. 500 words or less, please (if you run really long, I'll edit it), and no sexually explicit or extremely disturbing content, though some coarse language is fine. Do not link to a place to buy your work, but linking to your blog or another website where more of the story is posted is great! Please don't critique or offer suggestions for improvement on others' work, since we're sharing such rough drafts, but words of encouragement are much appreciated.
Here's a snippet from the sequel to The Phoenix Codex. I'm so embarrassed when I think about about how long this one has remained unfinished. I didn't expect to help start up a publishing company and write another book in the meantime! But I'm going to use NaNoWriMo to finish it, and then I'll edit it. I will say that the past year has made me very good at editing.
The black candle Valentina Vega had set next to the little Virgen de Guadelupe had burned out. The colorfully painted clay figurine had belonged to Val's grandmother, who had lived most of her days in Mexico City, but for her it represented the Goddess who went by many names. A niche in the steel wall served as her tiny altar. In her quarters at El Dédalo, the Manus Sancti headquarters beneath a remote desert, there wasn't room for anything more.
Urraca Mesa lay four hours north, and they should have returned hours ago. Sitting alone in bed, she looked back down at the book opened in her lap. How long had it been since she turned the page? Maybe she should light another candle.
Her phone buzzed. She jumped and then snatched it up from the bedside table. The screen displayed the name Dominic Joe, above the time: 3:11 a.m. As she answered, her heart lurched into overtime. "Salaam, Nic. Are they okay?"
"Salaam, Val. They're good. They got it done." She exhaled in sheer relief. "Cassie sprained her ankle, nothing serious."
She stood up and pulled a Chinese silk robe over her satin slip of a nightgown. "Are you in medical? I'm coming down." Tomorrow she'd need to debrief both Jonathan and Cassie, going into both of their psyches to review and record every detail of the mission, lodged in their memories. Right now, though, she just wanted to hug them.
"Yeah," Nic said. "Capitán Renaud wants you down here immediately."
Val stiffened. Their leader stayed informed of all the missions in El Dédalo, night and day, and every twelve hours, he got reports from the other guarídas around the world. But why would he meet with Jonathan and Cassie at this hour? Something sounded off in Nic's voice, and her empath abilities didn't work over the phone. "What's going on?"
A half-laugh. "Michael's back."
Her breath stopped in her lungs. She tried to make sense of the words, and failed. The dead returned only in dreams, and she was awake. She pressed her hand to her throat, unconsciously fumbling for the crystal that had hung from a chain there. She'd lost it on a trip not long ago. Its absence underscored her disorientation. "What do you mean?"
"We found him wandering near the mesa. Stark naked and freezing."
Panic shot through her. "It's not him." Had they all lost their minds? What unholy thing they brought within their walls?
"Jon Read him. He's sure."
Because of her job, she'd walked into hundreds of people's psyches. They were all unique. One would look like a rocky beach, another like the gaudy and gilded interior of a crowded opera house, and still another like an empty office at the top of a skyscraper, overlooking a metropolis. Jonathan had been in Michael's psyche a few times at least. He would recognize it.
Val as much fell as sat back down on the bed. "What in the world."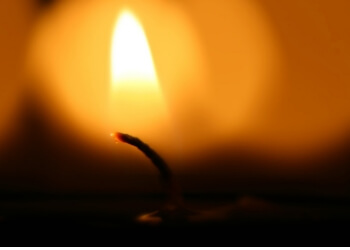 Share your own excerpt below — or, if you prefer, just tell us about your writing goals for October. Thanks for reading, and happy writing!