Hey there! For anyone who's new to the blog, on WIP Wednesdays, I share an excerpt of what I'm working on and invite you to do the same in the comments. Keep it under 500 words, with no sexually explicit material. Sharing your work here is a low-risk venture, since we don't critique work in progress — though supportive comments are more than welcome!
National Novel Writing Month is almost over, and starting next week, I'll go back to once-a-month WIP Wednesdays. It's been so much fun to see more of what people are doing, though!
If you're on track to win NaNo: yes! Good job! And if you didn't do it: eh, so what? Any month can be a productive writing month.
In my excerpt today, Paige is in her kitchen with her best friend and fellow teacher when she gets some unwelcome news from her landlord.
Harry took a deep breath. "Paige, I was trying to tell you the other day, but uh…" He looked down at his shoes. "The truth is, I'm going to be selling the cabin."
"What?"
Paige's whole body felt cold, as though the life had drained out of it. Jessica stared at her, eyes wide with empathy.
The inspection guy said, "Honestly, you were lucky to be renting it for what he was charging."
Paige couldn't think of what to say. My cabin. Her sweet little haven. She'd even started writing a story about it. And it wasn't going to be hers any more.
"You're just kicking her out?" Jessica demanded of Harry, speaking up for her the way a good friend did.
Harry managed to look Paige in the eye. "When it gets sold, I'll give you forty-five days' notice."
That was more than fair, she knew. It was his right to sell the place at any time. But it didn't feel fair. It felt like a betrayal. "I thought you liked me." The words slipped out before she could stop them. For heaven's sake, she sounded like one of the six-year-olds in her class.
Harry looked pained. Was he going to change his mind?
"I do like you, Paige. But it's been lonely here without Donna. Like I said the other day." She hadn't understood him before. Maybe she could've listened a little better. "My daughter thinks I should move down to Albuquerque and be closer to them. So I'm selling my house and the cabin both. I'd just like to be around her and the grandkids."
Paige's heart melted. "And I'm sure they'd love having you around." Harry was probably about the nicest grandpa around. She was glad that he'd be close to his family. It was where he belonged. "Of course you have to go. I just…"
There was no sense making him feel guiltier about it, even if she loved the cabin with all of her heart, and even if it had made her feel like luck was finally on her side. "Well, anyway," she said. "I should let you get to the inspection."
She sat back down at the kitchen table, though the sight of the construction paper pumpkins, oddly, made her heart sink.
"Welp, let's look at the water heater," the inspector guy said. Harry let him to the utility room off the main living area.
"Oh, honey." Jessica patted her arm. "I know how much you love this place. And you just made that twill shower curtain."
"Toile," Paige corrected her unthinkingly. "And I planted tulips for next spring." She pressed her fingers against her temples. "Ugh, I'm such an idiot."
"Excuse me," Jessica said with mock indignation. "Nobody talks about my friends that way."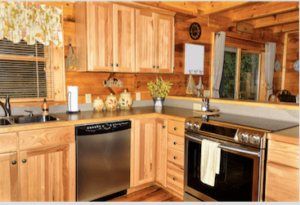 If you want to, go ahead and share your own excerpt below — or just tell us how your writing is going. In any case, thanks so much for reading!