Welcome to another WIP Wednesday, where I share an excerpt of what I'm working on, and maybe you do the same in the comments! We're doing this every week in November in honor of National Novel Writing Month.
If you're doing NaNo and you're hustling to make your word count, I'm sending you strength! But you don't need to be doing NaNo to share some of your work. Just keep it under 500 words, and don't share any explicit material.
Critiques are unwelcome (however well-meaning), but encouraging words to fellow writers are appreciated. (Some of you are so good about that! You should never feel obligated, because we all have busy days, but I do want you to know I think you're awesome.)
I'm still writing my super-sweet contemporary romance. My hero works in an investment banking firm where late hours are the rule, but he's not staying late tonight.
It was five-forty-five, and Dylan needed to slink out of the office without looking like he was slinking. The first half of his route held no danger: the kitchen was on his way, and anyone might believe that he was just on his way for yet another cup of coffee.
Nancy, the admin, intercepted him. "Dylan! Hey, did you see I had to move that ten o'clock with Hartley tomorrow to nine o'clock?"
"Yeah, I saw." Dylan lied reflexively about having seen emails, a habit that had grown out of the fact that it was literally impossible to read everything in his overflowing inbox. "But thanks for the heads up." He really did appreciate it. Being late to a meeting with that particular client would've been a disaster.
Nancy walked on, and Dylan checked out the route ahead of him. No sign of Ellen, who was waiting on some research from him, or Mark, his boss. Good.
He was almost to the exit when the door to the men's room opened and Mark emerged.
"Hey, Mark," Dylan said.
Mark squinted at him from behind the glint of his glasses. "You getting takeout? I might want something. Unless you're going to Thai Palace—that place is trash." Dylan loved Thai Palace.
Restaurant runs were common around this time of day. It was all covered by the office: a thoughtful perk to encourage them to work through the dinner hour and beyond.
"I've actually got to head out," Dylan said. "It's a family thing." He hoped the tone of his voice suggested that the family thing was some kind of emergency than a grown sibling's birthday party.
Mark blinked and licked his chapped lips, his tongue flicking out quickly like a lizard's. "I need you to take another look at the modeling for Hartley. We've got some new inputs."
"Another look" meant a couple of hours at least. "I'll be in tomorrow morning at five." He could almost hear his future self cursing him as he dragged himself out of bed.
Mark gazed over the cubicles. "Did you hear that Jeffries is no longer with us?"
Kevin Jeffries? He'd been hired less than a year ago. Had he left, or had he been fired? "Really," Dylan said.
Mark nodded. "We're not making a big announcement."
Fired, then. They never announced that. Everyone just pretended that the person had never existed. Dylan got a heavy feeling in his chest. He hadn't really gotten to know the guy. He wasn't exactly friends with anyone in the office, for that matter. But he'd liked Kevin, whose cubicle had been decorated with photos of his wife and baby girl.
It wasn't a job for a new dad. Maybe Kevin would be better off in the long run. Dylan hoped so.
Ellen approached them, her purse over her shoulder. Inwardly, Dylan cringed. Please don't ask me about the research.
"I'm going to Thai Palace," she said. "Dylan, you want your usual?"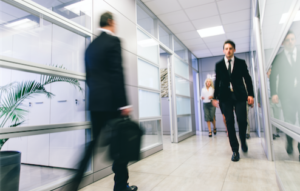 Thanks for reading! If you've got a snippet of your own to share, please do that in the comments below…or just tell us about what you're working on, if you feel so inclined. Happy writing!