Hi, everyone! My reading choices are always eclectic, and that was definitely true this month. Here are three books I enjoyed!
This is a meticulously researched book about Dan and Ron Lafferty's murder of their sister-in-law and her baby daughter, and about the early Mormon church and contemporary fundamentalist Mormonism. It's a book full of monsters, depicting men who used religion as an excuse for theft, fraud, beating women and children, raping women and children, incest, and butchering men, women, and children in cold blood (look up Mormon pioneers and the Mountain Meadows Massacre for more about this last one).
Even as it illustrates how charismatic people can be when they hold strong convictions, it's a strong warning against extremism and fanaticism of all kinds. In many religions, as well as many ideological and political movements, lofty ideals have been used as an excuse to commit atrocities.
I'd recommend this to anyone who liked Going Clear, Lawrence Wright's book about Scientology, and wants to read something about a hundred times more horrifying. It's also a good choice for writers who want to create a well-rounded, motivated fanatical villain.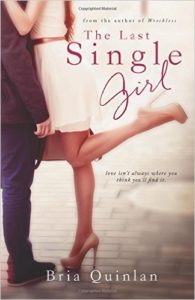 A lot of this romance takes place in a charming coffee shop. Our heroine, Sarah, is meeting guys there for first dates, in hopes of finding one that would be suitable for a New Year's Eve party. The romance is slow-brewing (couldn't resist) and it's narrated in the first person with warmth, wit, and sparkle. The dates were both realistic and hilarious. This definitely has that chick lit feel that I really miss sometimes. It's a quick read and I breezed right through it. I definitely recommend this one for a feel-good break in a tough week. It's the first in a series!
This was our book club pick, and I was really interested in it because Riddle is a mind-bogglingly successful self-published author. His self-published novels sold millions of copies and led to a huge deal with HarperCollins. This book is getting made into a movie, which doesn't surprise me at all — like Andy Weir's The Martian, it has a distinct cinematic vibe.
Mr. Donovan and I wound up buying both the print and the ebook version, and the ebook is really impressive from a self-publishing production standpoint — great interior design and full-color illustrations. It's a scifi thriller with a huge scope, beginning with the discovery of a Nazi submarine in Antartica. The pace is frenetic, with short cliffhanger chapters and a plethora of point-of-view characters. I do think a little bit of character development may have been sacrificed for the sake of adrenaline, but thrillers are supposed to thrill, and I felt like the author was completely committed and uninhibited in telling a big, crazy story.
What have you been reading? What's on your TBR pile? Let us know in the comments, if you feel like it. Thanks for stopping by!