Many writers love setting daily word count goals. It's not for me, because days can vary so wildly. On one day, I might get a ton of writing done. On another day, I might have to drastically rewrite something, or take my dog in for emergency surgery, like we had to do last week. (He's making a good recovery!) I like to look at my progress month to month.
No matter how you feel about word count goals, tracking your progress can be really motivating! I think making your progress public on your blog or website, or sharing it on social media, can be especially inspiring. I talked about mine on the last WIP Wednesday, and some people wanted to know where to get one. Here are four word counters available for free. See if one of them works for you!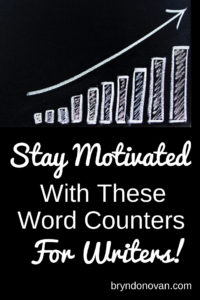 For your WordPress.org blog…
This is the one I've added to my blog (you can see it near the bottom on the lefthand column on this page.) It's only an option if you have a blog on WordPress.org, but it's pretty handy.
For your WordPress.com blog or other website…
This gives you an html code that you can paste onto your website. If you have a WordPress.com blog, for example, you can paste it into a text widget and it'll look great. Bookmark the page. When you need to update your word count, you can do it on this web page and your word counter, wherever you put it, will update. You don't need to paste in the code again.
Here's how it looks!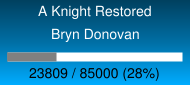 There are actually a lot of word counters like this out there, but I like this one because you can change the colors however you like.
For your iPhone…
If you track your daily word count on Wordly, it makes a graph that you can send to Facebook or Twitter. And if you are the kind of person to set daily word goals, Wordly will give you prompts, and it will also give you stats. (I for one do not want to know how many words I write per hour, but some people might!) Although I haven't tried out Wordly myself yet, it looks like it's worth checking out.
For your computer…
Justin McLachlan has made a pretty sweet spreadsheet with NaNoWriMo in mind, but you can adjust it to any word count goal for the month. It's color-coded (green means you're doing great, yellow means you're doing so-so, and red means you're behind.) Check it out here, and check out his great blog!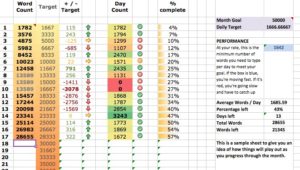 If you have a word tracking method or app that you love, or you want to chat about word count, please share in the comments. Have a great week, and happy writing!