Note: this post was originally part of a writing series, and some comments may refer to that.
Beginning a big new writing project can be daunting for some of us, especially if we haven't done it before… or if we haven't done it in a while, and we're trying to get back into the groove. Here's my advice for getting ready for a great month, season, or year of writing.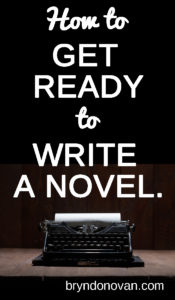 MAKE SPACE
You need a clean, quiet place to work. I actually recommend giving your whole home a good cleaning. Clutter can block creativity. Preparing a space for your writing sends a profound message to yourself that your project is worth something. It's like cleaning up before an honored houseguest arrives.
However, if it would take months to get your whole place clean, it's really okay! You just need one space that is cleaned up to be your place to write. This could just mean making your bed and cleaning off the table next to it, or vacuuming the couch and clearing off the coffee table.
If your home isn't a viable workplace, because you have loud roommates, a family member or a spouse who constantly interrupts, or whatever, you'll need to choose one or two external "offices." Public libraries and coffeehouses are two popular choices.
Some restaurants and diners are open late into the night or 24/7, which can be invaluable for a novelist. Maybe you can go all the time, and after a while they'll know you and ask, "the usual?" That'll be nice, right?
If you use a laundromat to wash your clothes, those can be great places to write. So can the little café area at some grocery stores.
Even if you plan on mostly writing at home, an external office can be a nice alternative once in a while. They make it harder to get sidetracked.
MAKE TIME
Now is a good time to think about whether you have optional obligations or activities that don't really enrich your life and might get in the way. Sometimes people feel guilty stepping down from an existing obligation or saying no to a new one. Don't. You have as much right as anyone else to follow your passions and do what makes you happy.
If you are a parent, particularly of young kids and/or kids who require a lot of time and attention, you'll have to figure out some strategies now to carve out writing time. The same goes for writers who are caretakers of aging parents or ill family members. I'm sorry to say this isn't my area of expertise, but I bet you can get good advice from people who are dealing with the same things.
READ SOMETHING
Do you already know what kind of novel you're going to write? Great! Go read a popular book in that genre.
Take notes. What works in the book? What doesn't? Write down good lines. Think about how they did what they did.
For more about understanding your book's genre, you might be interested in this post, too!
What do you do to prepare to write a novel and get into the groove? Let me know in the comments. Happy writing!