Note: this post was originally part of a writing series, and some comments may refer to that.
Of all the writing advice I've ever given, people have probably appreciated this the most: understand the genres of books, and know where yours fits in.
When I first started figuring out how to write a novel, I didn't consider genres at all. This was a big mistake. You always have a better chance of success if you begin with a clear vision in mind of what you want to accomplish.
This post is to help you think about where you would categorize your story, and to help you get more savvy about the genre of your choice.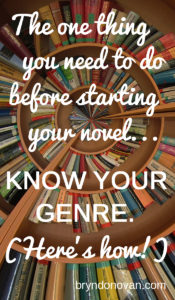 But maybe you're thinking…
What if my novel doesn't fit into a genre?
Think again. Genres are broad, there are lots of them, and they have developed over decades and centuries. There's a place for your book in there.
Eventually, you will need to know the genre, because the editors and agents you submit to expect that in a query. If you are self-publishing, you will have to put it in one bookseller category or another — there is no "so special it transcends genre" category. Prospective readers will want to know what kind of book it is, too.
Here are a bunch of literary genres for your convenience, though it's not a comprehensive list. Not all of them are mutually exclusive. These are in no particular order. If you're not sure what one really is, Google around and read up!
Mainstream
Literary
(Here's a pretty good discussion of mainstream vs. literary, by the way.)
Historical
Young Adult (may also encompass another genre, such as YA romance or YA historical)
Fantasy (sub genres include high fantasy, a.k.a. epic fantasy, and urban fantasy)
Horror
Science Fiction (subgenres include steampunk and space opera)
Mystery (subgenres include cozy mystery, noir, and historical mystery)
Thriller
Romance (subgenres include contemporary, romantic suspense, historical, paranormal, and erotic)
Western
Christian Fiction (also known as Inspirational Fiction)
Women's Fiction
(I'll explain this one a little for you, because "Women's Fiction" is probably the most slippery and the most unhelpfully named of the genres. Like romance, it does tend to be written by and read by women, but it does not mean "all fiction written by women"! It's usually defined as a story about a woman's emotional growth or journey. Family relationships or friendships often play a big role. I believe "chick lit" is generally seen as a subset of women's fiction.)
If you think you have a hybrid genre — horror Western, for instance — that's fine. Whatever it is, search around a little, and I think you'll discover you're not the only one.
Once you've landed on your genre, I strongly recommend the following:
READ 50 BLURBS OF BOOKS IN YOUR GENRE.
Do this on Amazon or on the Barnes and Noble website. You're just reading the little description at the beginning. You can keep a tally sheet, like this.
You're thinking: Seriously? 50?!
Stay with me for a minute. This is your secret weapon, right here. This is what is going to make you smarter than all the other aspiring authors. Nobody does this. Most people don't even look at what other people are doing!
What seems original to you may actually be done to death. I see writers fall into this all the time. They finish their novel and submit it to editors, who say, "We've published ten fantasy novels with this exact plot in the past year. And in fact, so did all our competitors. No thanks." Or they self-publish it, and readers leave reviews saying, "This was just like ten other stories I've read." And the writer worked so hard on it! It's awful. Don't let this be you.
At the same time, you'll also learn if one of the plot points you have in mind breaks the most fundamental rules of the genre: a mystery that never gets solved, a romance that ends when the heroine dies, and so on. If it doesn't satisfy the expectations of the genre, you'll want to either classify it as something else (such as literary or mainstream fiction) or change your story.
At the end of this, you are going to have a great feel for what people are doing, what's popular, what's possible, and what's played out. You'll feel like you know a little more about what you are doing – because you will. You'll be (cue superhero music): genre savvy!
If you find out this week that you are working with an over-familiar concept, no worries! You can think of ways right out of the gate to make it original and make it your own. Isn't it nice to do that now, and not when you've already written the whole thing?
If you see a book that sounds great, throw it in your shopping cart, or write down the title to take with you to the library. Because here's my final recommendation:
READ TWO RECENTLY PUBLISHED NOVELS IN YOUR CHOSEN GENRE AND TAKE NOTES.
If you're writing historical or time travel romance, you need to read more than Outlander. If you're writing young adult, you need to read authors besides John Green. This really shouldn't be a problem, because you love reading. You know you do.
Make notes of how the novel opens, and whether that opening makes you want to read more.
Write down the author's good moves – witty dialogue, interesting plot points, gripping scenes, and things that make you feel strongly about the characters.
Make notes of the writers' mistakes. What parts are boring? What sentences are stupid? What plot elements make no sense?
If you do all of this, congratulations! Instead of fumbling in the dark, you know where your novel-to-be will fit in the world. Moreover, your research and reading has probably inspired some more ideas about your story. Happy writing!