Hi there! A couple of weeks ago, I was blogging about how nervous and excited I was about the upcoming release of my clean autumn romance from Hallmark Publishing, Sunrise Cabin.
To be honest, "excited and nervous" was my gentle way of saying "terrified." Even after I got a lovely blurb from bestselling author RaeAnne Thayne, I was really scared nobody would like it.
I'd worked late nights and weekends on the book, and I'd put so much of myself into it. What if people rolled their eyes at my heroine for doing a morning gratitude ritual (you know…like I do?) What if they hated Dylan, who feels crushed by his workload at the office…just like I do, sometimes? What if I got a bunch of terrible reviews, and my boss and coworkers thought I was a fraud?
The official release date was Sunday, but the paperback was available sooner, so reviews trickled in before then. So far, people like it! I can't even explain how relieved I am. I told my boss about it the other day and he suggested that I could've talked to him sooner about being freaked out, which I really appreciated.
When I released The Phoenix Codex, I celebrated with a couple of my friends who had book releases at the same time. Since we just moved to L.A., I didn't really have anyone to celebrate this one with–besides Mr. Donovan and my dogs, of course. But I knew it would get a shoutout on national television on Saturday, during the Hallmark Channel's Fall Harvest Preview Special.
All Saturday, I looked forward to seeing the special…and then I missed it, because I got the time wrong! I was crushed…and then my parents sent me the iPhone video they'd taken of their TV screen when they were watching the show. It aired again on Sunday, and it was pretty amazing to see the hosts — actors I've watched in several movies — talk about my book! You can see it here, at around the 19:40 mark.
(Fun fact: if you look closely, the book she's holding is not exactly the same as the real book! When we found out we had the opportunity to get a shoutout on the show, the book wasn't finished yet. We made a very quick mockup and rushed it to the set!)
Many of you who posts excerpts with me in WIP Wednesday every month saw snippets of this book as I was writing it — and posted words of encouragement and support. I can't tell you how much I appreciated that when I was trying to hit my deadline!
Sunrise Cabin is available at these online retailers. And if you already bought it, thanks so much!
For people in the U.S. who get the Hallmark Channel, I'll be on the Home and Family show on Friday morning talking about the book! And on Thursday morning, before they shoot the program, I'll be doing a Facebook Live event on the Hallmark Publishing page.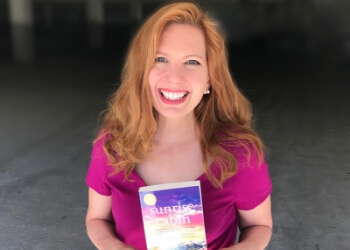 Have you ever had a work experience where you were really scared about something…and it turned out fine? Are you working on a book now that's close to your heart? I would love to hear about it in the comments! Thanks so much for reading!