Ooooh, it's been such a busy week that I almost forgot to get WIP Wednesday up. But I didn't!
If you're new around here, WIP Wednesday happens on the first Wednesday of every month. I share an excerpt of a work in progress, and you do the same. Please keep it 500 words or less, and no sexually explicit content (coarse language is okay.)  We don't critique other work or make suggestions, but friendly and encouraging words are encouraged (and they're good writer karma!)
My novel Sunrise Cabin is in final edits now and is coming out in September with Hallmark Publishing.
Dylan's an investment banker and Paige is a first grade teacher, and in this scene, they're on their first date. They have a long wait for a table at brunch, so they're at the pop-up costume shop next door.
She said, "You know, it's been a long time since I've been on a date." Inwardly, she winced. "Is it weird that I said that?" And maybe asking that made it even weirder.
But he still looked relaxed, his hands in his pockets, regarding her with—well, she would've had to call it affection. "You say what's on your mind. I like that."
"What about you?" she asked. She turned back to the costumes and attempted a casual tone. "Do you go on a lot of dates?"
"Oh, yeah. You're my second date today." She shot him a look and he laughed. "It's been a little while." He picked up a pirate costume. "What about this? Arrrgh.—Do lady pirates say arrgh?"
She came over to look. "That's…a little revealing for me. And definitely too revealing for work."
"Right." He hung it up and picked up another one. "So I guess you don't want to go as a sexy chicken."
"They do not have a sexy chicken costume." She looked. Oh yes, they did. "Good heavens."
"It's actually disturbing," he said.
"Shouldn't you go find a costume for yourself?"
"Not going to happen." He appraised a nurse costume, then put it back.
"Oh, come on. Cowboy?"
"No." She raised her eyebrows at the vehemence of his tone, and he added, "I hate the Dallas Cowboys. And I don't have anywhere to wear a costume."
"Doesn't anyone in your office dress up?" She'd been under the impression that at most offices, at least some people did.
"Absolutely not.—Oh, here we go. This is your costume."
She guessed he'd found something wildly inappropriate. He held up a full-length dress in sky-blue with a diaphanous skirt, matched with a huge pair of sheer, iridescent fabric wings. A crown of pink and blue silk flowers hung from the top of the hanger.
"Ooh." She took the costume from him and checked the tag. "This might fit me."
"Go try it on and see." He gestured to the fitting rooms in the back. "And then come out so I can see it."
"I'm not showing you."
"Oh, fine." He was smiling, not really giving her a hard time.
She went to the dressing room and tried it on, her expectations low. To her surprise, the dress fit beautifully. She put her arms through the elastic loops of the wings to fasten them to her back, and the settled the flower crown on her head.
Okay. It was a great costume. She wasn't going to go out and show him, though.
No, she was. She slipped on her ballet flats, stepped out of the dressing room, and found him more or less where she'd left him, engrossed in his phone. She asked, "What do you think?"
He looked up and then gave a wondering laugh.
"You're laughing at me," she said automatically.
"No. I mean yeah I am, you're dressed like a fairy. But you look amazing."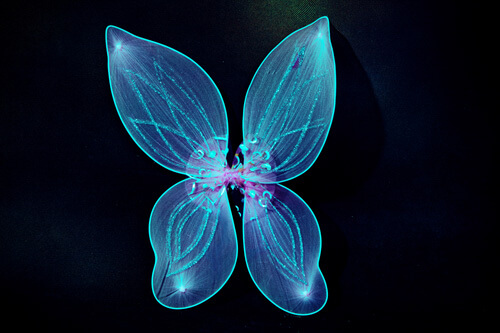 Please share a little of what you're working on below…or just comment to tell us how your writing, and your life, is going lately! Thanks so much for stopping by!