Lots of my readers want to know more about how to get published, so last week, I shared a list of fantasy and science fiction publishers who accept unagented submissions. This week, I'm doing the same thing with romance!
This isn't a comprehensive list. Romance is a huge genre, and there are lots of opportunities out there for writers who don't have agents.
I've left off some publishers because I just haven't heard anything about them yet. I've also left off a few that specialize in certain types of erotic romance, because I have a lot of underage readers on this blog (although most of the publishers here do publish racy stuff as well.)
If there's a publisher you believe should be added to the list, let me know via a private message at bryndonovan@bryndonovan.com.
The name of each publisher is a live link to their submission guidelines. Follow those exactly for the best results!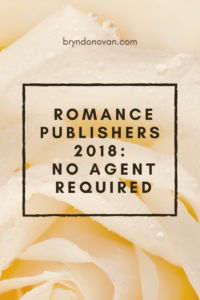 They publish LGBTQ fiction, including romance.
They're looking for both romance and women's fiction, novellas and full-length novels.
This is Harlequin's mostly-digital publishing arm, and I published my haunted house romance Sole Possession with them. They're open to a wide range of lengths and subgenres.
They specialize in gay male romance, and it looks like they're currently looking for both contemporary and paranormal.
I believe this Macmillan imprint does a lot of young adult and new adult as well as regular-adult romance.
This is a romance ebook division of Grand Central Publishing.
The Hallmark channels recently launched this books division. Full disclosure: I'm the director. They're looking for full-length romance novels that are lighthearted, fun, and wholesome without being religious. Note that if the book does get made into a movie, that's a nice extra payday for the author.
They accept unagented submissions for series romance, which are the smaller/skinnier Harlequins.
I associate them with paranormal romance, probably because of the name, but they do historical and contemporary as well.
This is the ebook division of Kensington. They note that if you don't hear back in a query in three months' time, that's effectively a rejection.
A fairly new player in digital-first romance. They mention that they're open to chick lit, which I don't see as much of these days.
They're looking for novels of 85,000 to 100,000 words, which is pretty long in the romance genre.
They're a digital-first imprint that's been around for a while. They've publish several subgenres, including a lot of Western Romance, which is more unusual.
Whether you're writing romance or something else, I wish you lots of luck on your projects! And if you don't want to miss future writing posts, make sure to follow the blog: there's a place to sign up below. Thanks for stopping by!