Welcome back to my 7-part series on how to rewrite, revise, and edit a novel! So far, we've been talking about ways to fix up the story, and the 2 segments after this will be more about polishing up your writing style.
But before you get into sentence structure and word choice and so on, you need some feedback.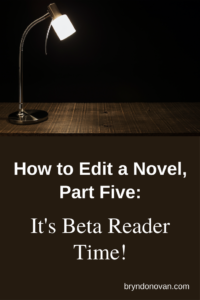 A beta reader is someone who reads the not-final version (or "beta version") of your work and offers feedback. A critique partner is the same thing, except you also provide feedback on their work. I've blogged before about where to find beta readers, and how to avoid toxic beta readers, so you can check out those posts if you like.
I'm going to be honest: it's hard to find people to agree to beta read for you… and it's much, much harder to find people who agree to do it and then actually do it. When you can't even get your writer friends to read your work and give you constructive criticism, it can be very demoralizing. Try not to let it get to you! The same thing happens to lots of writers, and your work is important regardless. Keep asking until you find your beta readers.
Things To Ask Your Beta Readers
Here are some questions you might ask them:
Did the first chapter get you interested?
Were there any parts of the story that dragged… or that felt rushed?
Were there any parts that confused you?
What did you think of the characters?
Did the ending leave you satisfied?
What would you change about the story?
What did you like about the story?
That last question is especially important, and it isn't just to make you feel good! When you focus on your strengths, it makes you better, both in writing and in life. Obviously, you should try to learn about the problems in your book and fix them, but chances are good that you're even more oblivious to what you're doing right as you are to what you're doing wrong.
I tend not to ask leading questions, such as: "Did this scene offend you?" or "Did you believe in this character's motivation?" If it's a problem, they'll let me know. And if I already know it's a problem, I go ahead and fix it.
Oh, and here's the last question you should always ask them:
Can you please get me feedback by (insert date here)?
Without a deadline, most of us won't do anything. Set a deadline, and if they miss it, follow up and ask when you can expect feedback from them. Yes, they are volunteers, but once they've committed, it's okay to ask them to honor their commitment. Sometimes as a beta reader, I miss the date we agreed on, and I never resent someone nudging me!
Let's Talk About Accepting Criticism
I've worked professionally as a writer forever and ever, so I have a thick skin. But I started out being very sensitive to critique. If you haven't gotten a lot of feedback on your writing, the beta reader stage can make you feel vulnerable… almost like you have no skin at all.
One of the reasons I invite people to share a little of their work on the first Wednesday of every month, in a critique-free zone, is that I want to help people get over the anxiety of just putting their work out there.
If you're new to getting feedback, or you're not even new and it's still excruciating, try to keep this in mind:
Feedback on one version of one story is not a referendum of your talent as a writer… let alone a verdict on your worth as a human being. 
Think about it.
You're this great human being.
You're also a creative writer getting better and better at your craft.
This is only one story you wrote. You're probably going to write a bunch of stories.
And guess what? It's only a draft. It's going to get better. That's the whole point of having beta readers!
So it's nowhere near a judgement on your worth as a person. You're already a valuable, worthwhile, precious human being. That's already been decided. It's not up for a vote.
Here's what you do when you get feedback from a beta reader.
Thank the person immediately for their time. (No matter what.)
Read through their critique quickly.
Don't think about it again for a few days.
Your subconscious will use that time to sift through it and figure out what's valid and helpful, and what can be dismissed out of hand.
You are going to get some useless feedback. Some readers just aren't right for you. You don't need to argue with them, and you don't need to think about it any further. Say thank you, and cross them off your list of future beta readers. You're done.
You're also going to get some fantastic feedback… the kinds of insights that make you think, "HOLY SMOKES. YOU ARE SO RIGHT. I CAN FIX THIS! IT WILL BE SO MUCH BETTER!" And that feedback will make it all worth it.
After you make the changes based on beta reader feedback, you'll be ready for the next segment of this series!
If you have thoughts or experiences about beta readers, please share them in the comments! And if you don't want to miss the rest of the series, follow the blog, if you aren't already: there's a place to sign up below. Thanks for reading, and happy writing (and editing)!