The other day in one of my many online groups, someone was asking about advice on how to make friends later in life. And sometimes I hear people in their 40s…or even their 30s…asking, "Is it too late to make friends?"
Finding people you click with can be challenging at any age. (Personally, I found it the hardest around middle school.) But I don't care how old you are–it's not too late.
The other weekend, two of our best friends, the writer J.R. Boles and her husband, in the world came out to Los Angeles for a visit. (If you've read The Phoenix Codex, you may have seen that I dedicated the book to J.R.) These friends were one of the reasons I found it so difficult to leave Kansas City (and actually started sobbing loudly at one point while I was packing.)
But we stay in close touch. We text, connect on Facebook, and catch up (along with a couple of our other friends) on Google Hangouts (J.R.'s idea, because she's not only a fantastic friend, but also a genius.)
Mr. Donovan and I had an amazing time showing her and her husband around the city. We went to the beach twice, explored Hogsmeade at nearby Universal Studios (nerd heaven), took a tour of Hollywood, and talked and talked. It was about the best weekend you could imagine, and we'll see them again before too long when we visit Kansas City in early November.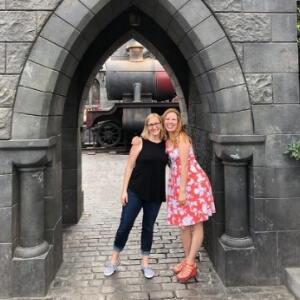 J.R. and I didn't grow up together or even meet in college. We met just a few years ago, through a mutual friend of ours (who I didn't actually know well, either, at the time.) Their writing group was meeting at a café to write, and I showed up as the new person. J.R. was pregnant at the time and finishing her novel in progress before the baby came.
I didn't know then how talented, how caring, or how brave she was, or that she was a natural leader, or that she was married to a great guy who would get along well with my great guy (an all-too-rare situation).
However, I could tell right away that she was funny and smart, and I immediately began plotting to be best friends with her. Obviously, I am great at achieving my goals!
Now over the past several years, I've become an extrovert. I enjoy mingling in groups and meeting new people.
For introverts, mixing with strangers can be uncomfortable, draining, or both. They usually prefer being with a few people they know well and share a strong connection with. Unfortunately, those people all start out being strangers, so you have to mix with strangers in order to meet them.
I want to make new friends in Los Angeles, so I got on Meetup.com and started a writing group for people in my neighborhood. I set up a meetup for last Thursday night where we could all get together at Panera and do some chatting and writing.
15 or 16 people showed up! I doubt that many will come next time, but if even half of them do, that'll be great. It was a diverse, interesting group and I liked everyone there.
L.A. is a town filled with creative people, but even the most introverted person in the tiniest town in the middle of nowhere can make good friends online. In that way, at least, we live in a wonderful era. Online socializing sometimes works better for writers who like to be able to think about what they're going to say. I believe online friendships are as "real" as any other friendships.
Earlier this summer, Mr. Donovan and I got together with an online friend who was passing through L.A. We'd been friends with her for over ten years, and it was the first time we'd met in person. There's something so touching about finally meeting someone you've known with for a long time.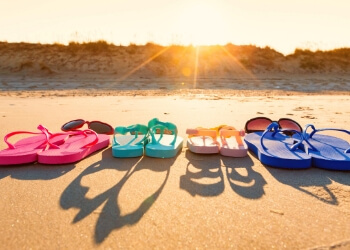 Do you find it easy to make friends, online, "in real life," or both? What's worked for you — or what have been obstacles? I'd love to hear about it in the comments! And thanks for reading, friends. I love connecting with you here!