Hey all! I intend to make next year the best year of my life so far, and I'm doing a five-part series about planning that out.
Yes, I know it's a little early for this. But think about it: Best Year Of My Life. The most fun and fulfilling year of my life so far (and I've had plenty of years by now, I don't mind saying.) Obviously, that's going to take some planning!
This will also give more people time to stumble across the posts before the New Year begins, because who knows? They might find it helpful.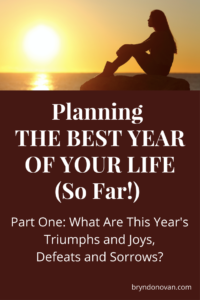 You might be thinking: Wait a minute. How can you plan to have your best year? Aren't we all at the the mercy of the whims of fate?
Yes, but also no. A catastrophe could destroy my plans. But fearing the worst would keep me from preparing for the best. A lot of my happiness depends on my own plans and day-to-day choices.
Here's my first step in planning the Best Year Yet, and you can join me, if you want to: assessing the best and the worst of the year I'm in now.
What were the biggest triumphs and joys?
What were the biggest defeats and sorrows?
I know I've done things I'm proud of. I've also acted in ways that I don't care to repeat…but if I didn't think about it, I probably would.
And some good and bad things just happened. It's good to take a moment to be grateful for the good things, and be compassionate toward myself as I recognize the bad things.
For me, this past year has been bananas… filled with abrupt and extreme changes. Fortunately, I like change! Mostly. Sometimes it's hard. But a lot of it is also so exciting.
Triumphs and Joys
launched a business
published a good novel…and celebrated my release and my friends' releases!
saw Hamilton and U2 with Mr. Donovan
(recently) gave up wine drinking at home
was politically active (speaking at town halls, participating in rallies)
visits with the Donovans, and with my brother & his family in Chicago
a Christmas movie based on my treatment!
teaching workshops and being a visiting speaker…some great experiences
good times with friends
Defeats and Sorrows
my grandma's death
"lost weeks" of doing nothing but work and sleep…leading to health issues
feeling less connected spiritually (connected to above, I think)
neglecting things that help my mental health (morning ritual; mood tracking)
not having enough writing and blogging time really dulled my sparkle
overspending & not keeping track of expenses
too much time on Facebook
the business isn't where I want it to be yet (but, it's practically brand new)
I could put "Mr. Donovan getting laid off" on the Defeats and Sorrows list, but honestly, I suspect that it'll turn out to be a Joy in the end.
For me, that second list was hard to make. Personally, I'm embarrassed by some of the things on it. It reflects a few bad decisions, when I knew better.
But that's okay! None of us is perfect, and just by writing it down, I realize that I can change some of the things that drag me down.
For other people, that first list may be hard to make. I know there are going to be some people who had a god-awful year. They're going to think, "This whole year has been a big long train of defeat and sorrow." But hopefully, even if that's your situation, you can think of a few glimmers of hope, and those can help guide you to something better.
If you want to share your own reflections, feel free to do so in the comments! Either way, thanks for reading, and have a great week!
Want to read part two of this series? Go here!