I haven't talked all that much about titles on my blog, and they are so important for writers! They make that all-important first impression on agents, editors, and readers.
Coming up with a good title for your novel can be a challenge, and some of us change titles several times before landing on the right one. This is the first in a series about how to come up with a title for your story.
Catchy titles roll off your tongue when someone asks, "What's it called?" They make people want to read the book.
There are a few formulas out there that are overdone and not particularly versatile. For instance, I'm getting very tired of The ________'s Wife/Daughter: The Time Traveler's Wife (fun book), The Tiger's Wife, Galileo's Daughter (not fiction), The Witch's Daughter, The Hummingbird's Daughter (I heard this author speak once and he was very nice), and so on. Enough.
However, I'm going to be sharing basic setups for good book titles that can be taken in countless different ways.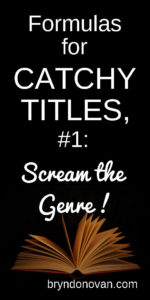 This first formula says to potential readers, "Hi! You know those stories you really love? This is one of those!" Conveying this message, through the title and/or the cover design, can make a big difference in sales. (If you're not sure about your genre, you probably need to figure that out. This post might help!)
This particular approach probably isn't appropriate for mainstream or literary fiction, but other genres, it's great.
Here's the basic idea for this title formula:
Choose a word that signals your genre in a clear way.
Add another word or a few words to round it out.
Here are some examples of this type of title:
Tinker, Tailor, Soldier, Spy, by John Le Carré.
It's a spy novel, and it has "spy" right in the cover.
The Bollywood Bride, Sonali Dev.
"Bride" is a classic signifier of the romance genre. (Although this is in fact a romance, the type treatment here signals "literary fiction"… maybe the publisher wanted to straddle both?)
A Dance with Dragons, George R.R. Martin.
"Dragons" screams "fantasy novel."
Okay, so you get the idea.
Note that if you're doing a subgenre, the title may address just one part of the subgenre. A lot of paranormal romance titles, for instance, have paranormal-sounding titles and signal the romance part with the cover design.
You may worry about using an "expected" word in your title, but using it with an unexpected word or phrase will turn it all around.
Are you wondering what some of the words are that signify your genre? How about I give you a few sample lists for fantasy, romance, and mystery/thriller? These lists aren't comprehensive by a long shot, but they might help you think of other "genre words."
WORDS THAT SCREAM "FANTASY"
blade
sword
shield
stone
quest
adventure
spell
curse
prophecy
fate
destiny
tale
chronicle
legend
saga
age
magic
dragon
beast
land
earth
realm
fire
light
wind
mist
sea
battle
king
queen
knight
crown
castle
tower
cave
god
goddess
hero
witch
wizard
sorcerer
mage
priestess
maiden
warrior
elf/elves
immortal
mortal
any mysterious occupation name: "keeper," "seeker," "rider," etc.
WORDS THAT SCREAM "ROMANCE"
A few of these are specific to historical romance, and some of them are most appropriate for steamy romance.
love
heart
kiss
embrace
fall/falling
date/dating
affair
tryst
fling
scandal/scandalous
passion
pleasure(s)
sex/sexy
wicked
sin/sinful
wild
hot/heat
tempt/temptation
seduce/seduction
courting/courtship
devoted/devotion
obsessed/obsession
promise
lover
bride
groom
wife
husband
lady
gentleman
man
woman
wedding
marriage
beauty/beautiful
lovely
sweet
night/tonight/midnight
always
forever
his
hers
my/mine
yours
you
me
two
together
any name that identifies a main character and the romance subgenre: cowboy, vampire, duke, etc.
(For a steamy romance, my list of words for love scenes also contains some words that can scream the genre.)
WORDS THAT SCREAM "MYSTERY" and/or 'THRILLER"
kill/killer
murder
fatal
die
death
dead/deadly
grave
blood
bone
clue
evidence
proof
suspect/suspicion
profile
files
justice/injustice
law
guilt/guilty
innocent/innocence
crime
victim
trial
case
jury
lies
deception
hide/hidden
underground
false
true/truth
danger/dangerous
trouble
extreme
total
final
beyond
target
prey
revenge
pursuit
chase
hunt
escape
fire
burn/burning
again, any name that identifies a character and the mystery or thriller subgenre, such as lawyer, detective, enemy, or agent
(You might find more words that scream "thriller" in my list of words for action scenes in Master Lists for Writers.)
~
Don't like this particular way of coming up with a title? No worries! I've got several more on their way. If you're not following the blog, you should do that so you won't miss the others – you can subscribe below.
Do you ever change your title a lot? Or does the perfect title come naturally to you? I'd love to hear in the comments! Happy writing!