Hey there! I know many of my readers aspire to publishing a novel, and many of them write fantasy and science fiction, so I put this post together to help them. I did a post like this a couple of years back, but it needed updating!
Many publishing houses won't accept submissions except through agents. If an author's hoping for a big book deal, it probably makes sense to try to find an agent first. (And don't submit to publishers while you're looking for an agent. If someone is considering representing you, it's going to be awkward to explain to them that four publishers have already turned you down.) Signing with a great agent can feel like winning the lottery, but even then, it can be a long road to the contract of your dreams.
But what if you haven't been able to find an agent? Or you suspect what you're writing is a little weirder or more niche than what agents are looking for, or if you're just in a hurry?
Here's a roundup of publishers who accept unsolicited manuscripts. Most of them are smaller houses, but a few are pretty big names. I'm including publishing houses that have open calls now and again, even if they're not open to unagented submissions at the moment.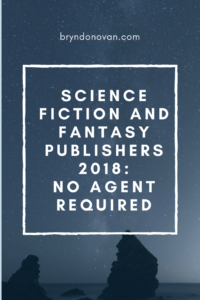 I haven't done extensive research on these houses, so you should do that yourself before signing anything with them. If you know of a reason I should not include a publisher on this list, or if you believe I should add a publisher, please notify me via a private message at bryndonovan@bryndonovan.com.
The name of each publisher below is a live link to their submission guidelines. If a publisher isn't asking for your type of work, don't bother submitting. For instance, if they say they want novels of 80,000 words or more, don't send them your 20,000-word novella. It's a waste of their time and yours…and a writer's time is precious!
If you've got what they are looking for, follow the submission guidelines exactly! This will set you apart from about half of the submissions right out of the gate.
Although they don't take unagented submissions most of the time, I'm putting them on the list because they had "open door" periods for novels in 2016 and 2017. Keep them on your radar!
If you write feminist science fiction—novels or novellas—check them out. They're also interested in seeing poetry and shorter work.
They publish science fiction and fantasy novels, 100,000 – 130,000 words, and say their pay is "very competitive."
They publish young adult and new adult novels, including science fiction and fantasy YA and NA.
They're the digital-only (actually digital-mostly) publishing arm of Harlequin, and I've published with them in the past. They aren't interested in straight fantasy or science fiction, but they do publish fantasy romance and scifi romance.
This UK-based publisher of fantasy, scifi, horror, and paranormal fiction is upfront about their terms on their website.
These guys are a big deal in the fantasy and science fiction genre. Although they're closed for unagented submissions at the time of this post's publication, they say they'll be open to them again later in 2018, so check back with them! They aren't really interested in novels shorter than 80,000 words.
This is a little different from getting a publishing deal, but I think it's interesting. You can submit a science fiction short story to be published on their website, which gets pretty good traffic. I don't think they pay anything, but they don't take exclusive publishing rights, either. For newer writers wanting to find readers and/or make more of a digital footprint as an author, they might be worth checking out. They do note that they recommend filing your US or UK copyright for your work before it's published online.
They publish both science fiction and fantasy novels of 75,000 – 100,000. Occasionally, they'll publish YA speculative fiction.
They're looking for science fiction, fantasy, dystopian, and steampunk romances, 45,000 – 60,000 words, with main characters who are 16 to 18 years old.
This is another big-deal publisher: the science fiction and fantasy imprint of HarperCollins. Although they aren't open to unagented submissions right now, they do open calls sometimes, so bookmark their page and/or follow them on social media.
If you're writing middle grade or young adult science fiction or fantasy, these guys might be an option.
This is a California-based publisher of science fiction, urban fantasy, and speculative fiction, among other things.
If you're writing young adult or new adult fantasy, this UK-based publisher is an option. Their covers are gorgeous! They're looking for novels between 50,000 and 120,000 words.
This small publisher of horror and science fiction is open to both novella and novel-length fiction, and they have some pretty specific needs listed on their site.
This is a small UK-based publisher of literary supernatural and horror fiction. They print distinctive hardcover editions, and they're open to submissions of both short stories and novels. They aren't looking for sword-and-sorcery type fantasy.
This publisher often has calls for fantasy and science fiction short story submissions for their quarterly themed anthologies. They're usually looking for stories of 1,500 and 3,000 words. Check in on them now and again! And maybe check out a past anthology to understand what they're all about.
A big, big name in fantasy novels. Scroll way down to find the submission guidelines. I'll say that I've had the experience of submitting to them and never receiving a reply, but surely most people do hear back.
They're sometimes open to submissions of science fiction and fantasy novellas and novels. As I'm writing this post, they have open calls for short fiction for anthologies: check that out here.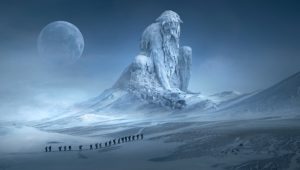 I hope this was helpful! If you write fantasy, you might also like to check out this post of 50 fantasy plot ideas and writing prompts.
And if you don't want to miss future posts about writing and publishing, make sure to follow this blog — there's a place to sign up below. Thanks for stopping by, and the best of luck to you and your writing!