Hi, everyone! Welcome to a new week, and another part of my series about planning your best year yet.
In part one, I reflected on this year's triumphs and joys, defeats and sorrows. I felt a little embarrassed to write down my defeats, because some of them were squarely in my control. In fact, a couple of you were surprised that I was being so candid…but with some topics, if you're not honest, there's no point in writing at all.
Realizing that I can make life better, of course, is actually a good thing. Too much time on Facebook? Not keeping track of expenses? Hey, I can fix that! In fact, I'm fixing it already!
Now we're going to focus on more good stuff.
Take a few minutes and ask yourself these questions:
What have been the best years of my life so far?
What made them good?
This is a great way to think about what you want more of in the future.
To help you get going, here are my best years so far:
my first (full) year in Kansas City 
Yep, I'm being cagey about the exact year.
Here's why it was great:
I was fairly new to a job I loved…my first salaried job in an office. I had new friends whom I really liked (and several of them are my friends to this day.)
After a couple months' separation (never again!), Mr. Donovan and I were together. We lived on the Plaza in Kansas City, in a one-bedroom apartment where mice and a ghost were both problems, but I was on top of the world.
I was also going to the gym regularly, and I was in the best shape of my life.
Here's me on a business trip to NYC that year (but back then, I never looked particularly business-y.)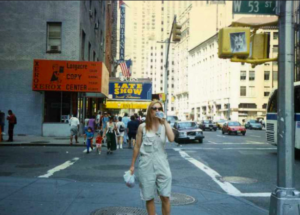 2008  
Here's why it was great:
I was, again, working in a really fun office. I was writing a novel — not my first, but the first to that would later get a publishing contract. And the best thing? We went to Ireland. Here's me at the Cliffs of Moher.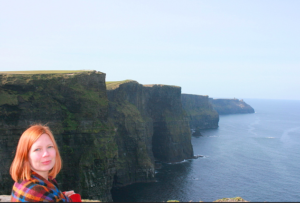 2015
Here's why it was great:
My blog was new and it took off. I put out the book Master Lists for Writers. Both of these things changed my life and were so exciting to me.
At my job, I had my very own line of greeting cards. It even came with gift wrap and a journal. Guess what the pattern on the gift wrap was? A repeated phrase: 'best year ever." No kidding.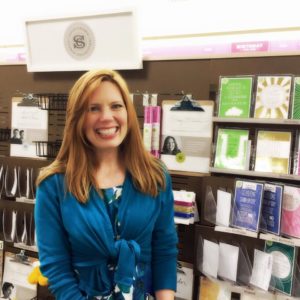 Best of all, I'd made new friends in town. Really, really good friends. I'm so grateful for them!
Okay, so those are my best years! What can I learn from them?
Being healthy and exercising makes me happy. (Yeah, that's a pretty annoying realization, but what can you do.)
Time with friends makes a huge difference in my happiness.
Sharing romantic times with Mr. Donovan makes me happy…whether it's in Europe or a cheap little apartment.
I really love to blog.
These are all great things to keep in mind as I make plans for 2018.
And here's the other thing about those years: they weren't all good.
There were some big worries, stresses, and problems. Even the worst year has some good in it, and even the best year has some bad in it.
This is going to be so important for me to remember in 2018. Just because it's the best year of my life so far doesn't mean I won't have bad days. The way I bounce back from them and hold onto my positive attitude is going to make all the difference.
I always have the attitude that my best times are ahead of me.
I'll hear people sigh and say, "Oh, well, I'm not young any more." You're as young as you'll ever be again. Hopefully, when you're 101 years old, you're going to look back on this part of your life and think, "I really made the most of it."
I've often seen the quote, "I'm going to make the rest of my life the best of my life," and that's truly my motto.
What about you? What have been the best years in your life, and what can you learn from them? Let us know in the comments, if you like, or just give it some thought. Have a great week!
Want to read part three in this series? Here you go!