Last week the creative division at my company had a fantastic symposium. All day, we heard impressive visiting speakers from many fields talk about belief and purpose in one's work. The event took place at the gorgeous Kauffman Center for the Performing Arts.
(PS: look how pretty, you should move to Kansas City, everything here is amazing.
Here is the outside: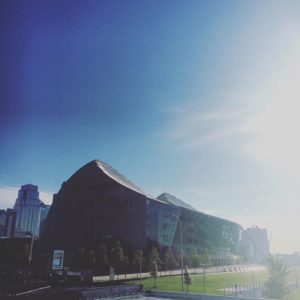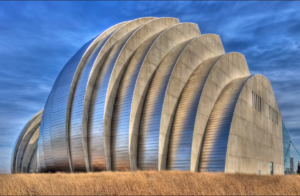 Here's me on the inside, a few years back: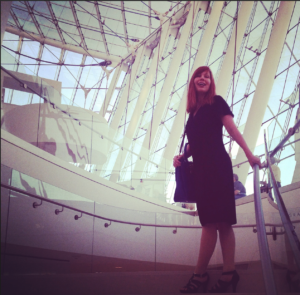 Two of the speakers, actor Rob Riggle and author Gillian Flynn (it's pronounced with a hard "g"), were from Kansas City and had known one another at the University of Kansas. I heard later that backstage, Rob and Gillian were talking about how nervous they were.
You never would have guessed it when Rob spoke. He began by talking about how attractive we were and how he would gladly have sex with us. His great and funny talk covered the need for connection and the power of words.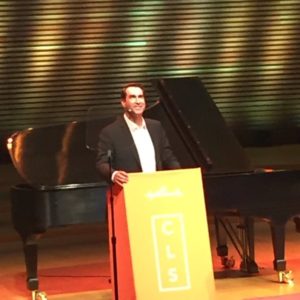 He also spoke about being fired from the TV show Saturday Night Live, which was pretty clearly a mistake on the show's part. I really appreciate it when people talk about their challenges, because most of us feel pressured to only share our successes.
Rob seems like an outstanding human being, and he and fellow Kansas City natives Paul Rudd and Jason Sudeikis do this great charity event, Big Slick.
But this post is really about Gillian Flynn!
Gillian Flynn is a superstar author who writes edgy stories. She's former writer for Entertainment Weekly. I expected her to be your basic confident badass.
When she started speaking, her voice quavered. The Hallmark creative community is about the most empathetic audience you could ask for, and we all leaned forward in our seats a little, sending her our most supportive vibes.
She got her first big laugh, and I thought, "Now her nerves will settle down." They didn't. Her voice shook the whole time. And that leads me to my list…
The 3 Things I Learned
1. You don't have to be a polished speaker to be a great speaker.
Gillian was insightful and witty and everyone loved her talk and loved her with all their hearts. She got a huge round of applause and loud cheers at the end. Friends. She killed. 
Sometimes I think that to be a really good speaker, I would have to go to Toastmasters for a few years. I've never heard anything but good about Toastmasters and will probably still check it out! But to give a great speech, all you really need is something great to say.
2. Creative writing exercises are a great idea.
(Hey Erika! This is the part you made me think of last WIP Wednesday. 🙂 )
Gillian talked about doing all kinds of creative writing exercises when she was working on Gone Girl. One of them resulted in the "Cool Girl" monologue.
Because it was the result of an exercise, Gillian didn't trust it. She kept taking it out of the manuscript and putting it back in again.
Thank goodness she wound up leaving it in, because it's a treasure of contemporary fiction. It is iconic. You are probably familiar with it, but here it is, just in case. (When I first read it online it knocked me on my ass, and then Mr. Donovan and I bought the book.)
Men always say that as the defining compliment, don't they? She's a cool girl. Being the Cool Girl means I am a hot, brilliant, funny woman who adores football, poker, dirty jokes, and burping, who plays video games, drinks cheap beer, loves threesomes and anal sex, and jams hot dogs and hamburgers into her mouth like she's hosting the world's biggest culinary gang bang while somehow maintaining a size 2, because Cool Girls are above all hot. Hot and understanding. Cool Girls never get angry; they only smile in a chagrined, loving manner and let their men do whatever they want. Go ahead, shit on me, I don't mind, I'm the Cool Girl.

Men actually think this girl exists. Maybe they're fooled because so many women are willing to pretend to be this girl. For a long time Cool Girl offended me. I used to see men – friends, coworkers, strangers – giddy over these awful pretender women, and I'd want to sit these men down and calmly say: You are not dating a woman, you are dating a woman who has watched too many movies written by socially awkward men who'd like to believe that this kind of woman exists and might kiss them. I'd want to grab the poor guy by his lapels or messenger bag and say: The bitch doesn't really love chili dogs that much – no one loves chili dogs that much! And the Cool Girls are even more pathetic: They're not even pretending to be the woman they want to be, they're pretending to be the woman a man wants them to be. Oh, and if you're not a Cool Girl, I beg you not to believe that your man doesn't want the Cool Girl. It may be a slightly different version – maybe he's a vegetarian, so Cool Girl loves seitan and is great with dogs; or maybe he's a hipster artist, so Cool Girl is a tattooed, bespectacled nerd who loves comics. There are variations to the window dressing, but believe me, he wants Cool Girl, who is basically the girl who likes every fucking thing he likes and doesn't ever complain. (How do you know you're not Cool Girl? Because he says things like: "I like strong women." If he says that to you, he will at some point fuck someone else. Because "I like strong women" is code for "I hate strong women.")
Amazing.
Learning that this came from a creative writing exercise changed my whole view of the fiction writing process. Thank you, Gillian!
3. "Trust your weird voice."
When Gillian was writing her second novel, Dark Places, she didn't want to have another dark female character, like she had in Sharp Objects. Her heroine was cheery. Peppy, even.
After she had written a lot of her first draft, she gave it to her husband for feedback.
Her husband poured the most generous glass of wine the glass would allow, and told her that her main character was forced and made no sense.
Gillian realized he was right. She threw away tons of work and changed the main character completely. The first line of Dark Places reads:
I have a meanness inside me, real as an organ.
Gillian's point in telling this story? TRUST YOUR WEIRD VOICE. She said this more than once. I wrote it down in my journal.
In fact, many people passed on Sharp Objects because they said the main character was "unlikeable." This cracks me up.
You know what editors and agents are begging for, like would SELL THEIR SOUL FOR (assuming their souls are not sold already), on Manuscript Wishlist these days?
Unreliable, not necessarily likeable female main characters. Because of Gillian Flynn and Paula Hawkins. Nobody was asking for this before those two authors, I'll tell you that.
TRUST YOUR WEIRD VOICE.
Okay, and here's the one thing I already knew:
If you're going to commit to someone, make sure they support your work and don't hem you in.
Gillian Flynn wrote Gone Girl as a newlywed. She told her husband it was going to explore all the sinister possibilities of matrimony. And her husband was like, "DO IT."
I am very lucky this way. I write romance, and Mr. Donovan, like Flynn's husband, is my first and best beta reader.
Mr. Donovan and I are both ordinary-looking people, and I sometimes warn him that there's a little male objectification in the story (which I myself have mixed feelings about and will blog about at some point.) He does not care.
I tell him, "Look, if I put out this trilogy next year, there's probably going to be hot guys on the covers." And he says, "Well yeah, that's the genre."
Mr. Donovan and I met in a writing program and we got engaged after three weeks of dating (and at least one week of strong hinting on my part). We are coming up on our 25th anniversary this year. I knew from the first minute that there would never be a conflict between him and my writing.
If you're a writer, look for this in your love life – and in your social life!
Do you get nervous when you speak in public? Should I do more creative writing exercises here? Do you trust your own weird voice, regardless of trends? I'd love to hear your thoughts – I always learn so much from my commenters. Have a great week!
Photos are from Hallmark's Instagram, my Twitter feed, and photographer Michael Stano.