A good title for your book or story makes all the difference. I've written about the value of titles that scream the genre, and about "open loop" titles that create a sense of mystery. Today, I'm going to look at titles that play on the familiar, and give you a little advice on how to do that!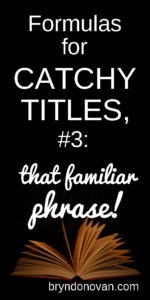 Lots of books use familiar phrases as book titles. You can probably think of a bunch of them! They fall into a few different categories.
They can be parts of quotes that are in the public domain.
There are lots of these!
Things Fall Apart, Chinua Achebe.
This classic takes its name from a line in the W.B. Yeats poem "The Second Coming."
Tender Is the Night, F. Scott Fitzgerald.
This comes from John Keats's poem "Ode to a Nightingale."
Brave New World, Aldous Huxley.
Huxley's dystopian classic takes its title from a line in Shakespeare's The Tempest: "O brave new world,/That has such people in't!"
Mr. Donovan reminded me of two William Faulkner titles like this: The Sound and the Fury, which also comes from Shakespeare, and Absalom, Absalom, which comes from the Bible.
They can be familiar sayings or axioms.
I know nothing about this author, but Amazon has this thriller ranked #1 in its category at the time I writing this post.
'Til Death Do Us Part, Amanda Quick.
This one also screams the genre — you know it's romance, and you know there will be an element of either suspense, paranormal, or horror (turns out it's suspense.)
They can be song titles, which are not protected by copyright.
As Time Goes By, Mary Higgins Clark.
Norwegian Wood, Haruki Murakami.
What are the benefits of a familiar phrase as a book title?
It's memorable.
Depending on the phrase, it can give the book a sense of legitimacy and importance.
It may evoke a certain mood in the reader.
Now occasionally, some people use phrases or expressions that are not necessarily well known, but are used in the world of the story. Titles like For instance, the movie Zero Dark Thirty, written by Mark Boal and directed by Kathryn Bigelow, took its name from the military term for thirty minutes past midnight. Most of us were unfamiliar with the phrase, but having "zero" and "dark" in the title gave it a sense of drama and urgency.
How can you come up with titles that play on familiar phrases? Here are a few ideas!
Use a keyword for your story and look up idioms.
Let's say you're writing a story whose main character is a wedding cake decorator. "Cake" might be a good keyword, so type this into Google search: "cake idiom."
Your first hit will probably be The Free Dictionary. Click on that, and it will give you a bunch of axioms, such as a piece of cake, the icing on the cake, and that takes the cake! Who knows? You might find one that works for your story.
Browse quotes from classic writers you like.
You can't rip off contemporary authors, but you can use quotes in the public domain. (Be aware that if you are using poetry in translation, the translation has to be old enough to be in public domain.)
Browse lists of songs.
This might be particularly good for a historical novel. For instance, if you're writing a book set in the 1940s, browse the top 100 songs of the decade.
Do you think playing off a familiar phrase might be right for one of your stories? Can you think of great examples — or ones that fell flat? Let me know in the comments! Happy writing!